Cleaning concrete intimidates a lot of homeowners, but it doesn't have to. With a bit of knowledge and the right products, your concrete can look restored and revitalized. Concrete flooring and accents are all the rage for interior design schemes, which means learning how to clean concrete has never been more critical.
How to Remove Stains from Concrete
The best way to clean concrete isn't necessarily the fastest way; however, it is the safest. You'll need to treat each stain separately. Fortunately, the task isn't difficult. Just remember these essential tips.
Related: 3 Ways To Make Your Home Look Younger
Do Not Combine Cleaning Methods When Cleaning Concrete
Mixing solvents can lead to toxic fumes and severe health problems. It's essential to treat each kind of stain separately, ensuring plenty of time for the flooring to dry thoroughly before moving on to another concrete cleaning method.
Make Sure You Have Proper Ventilation When You Clean Concrete
It's hard to tell what's soaked into the cement over time, and you'll be using solvents to clean. Do yourself a favor and open windows and garage doors depending on where you're working. If you have asthma, you should invest in a particulate respirator mask when you clean concrete. 
What You Need When Cleaning Concrete
Solutions: Hot Water, Baking Soda, Liquid Dish Soap
Equipment: Bucket, Stiff Brush, Push Broom
Helpful for Certain Stains: Spray Bottle, Cornstarch, White Vinegar (Distilled), and Oxygenated Bleach
How to Clean Cement Stains
Stains come in many shapes and sizes. But keeping your home maintained is important. For basic concrete cleaning, follow these easy steps:
Use the push broom to sweep the surface and remove debris.
In the bucket, combine 1 gallon of hot water to 1/2 cup of baking soda and a large squirt of dish soap.
Spread the bucket solution around using a stiff brush or the push broom. Make sure to scrub the dirtied areas.
Rinse and let dry.
For persistent stains, rewet the surface, then sprinkle oxygenated bleach in problem areas.
Scrub the areas using the push broom.
Let sit 10-15 minutes.
Rinse the surface and your broom.
Let air dry until thoroughly dry.
Wondering what can be done to improve the look of your concrete fixtures, sidewalks, and drive? Contact our Shine cement maintenance experts at the following locations: Austin, Dallas, Denver, and Houston.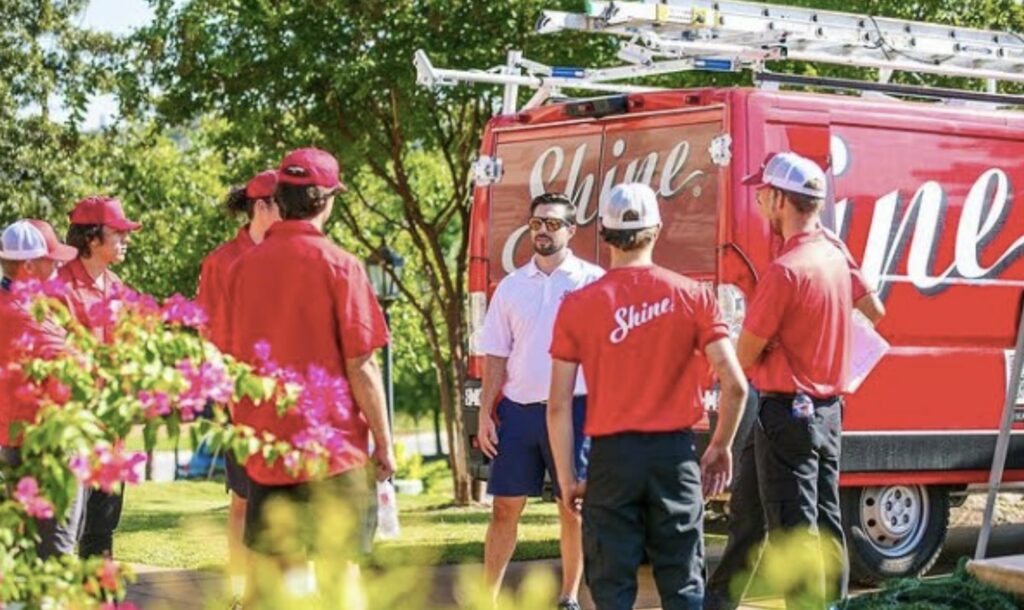 How to Clean Cement Floor With Mold, Mildew, or Moss
More severe stains like mold, moss, or mildew require some extra effort. You must kill the spores or plant material causing the problem; otherwise, it will just return.
Fill the spray bottle with equal parts hot water and distilled white vinegar.
Spray directly onto the moss, mildew, or mold area.
Scrub the area well using the push broom.
Rinse with a bucket of clean water.
Let the area air dry thoroughly.
For stubborn stains, create a solution combining 1/4 cup oxygenated bleach with 1 gallon of hot water. This will need to sit in place for 15-30 minutes before rinsing and drying the surface.
Related: The Shine Satisfaction Guarantee
How Do You Clean Cement With Grease or Oil Stains?
Because cement is porous, oil leaks from cars and lawnmowers can create a deep stain that is difficult to clean. It is possible, though, to clean even these stains.
Apply a thick layer of baby powder, cornstarch, or clay cat litter, all of which can pull the grease out of cement.
Leave the powder in place for 24 hours. Check in on the stain a few times during this period, and apply more powder if you see grease reaching the top layer.
After a full day, sweep the concrete.
Combine 1 teaspoon of liquid dish soap with 1 quart of extremely hot water.
Apply the solution to the stained area and scrub it with a broom or brush.
Rinse the concrete with hot water, then let it dry.
Need your concrete maintained? Contact our Shine cement cleaning experts at the following locations: Austin, Dallas, Denver, and Houston. 
Tips to Prevent Cement Stains
It's best to prevent stains than to have to clean them after. These tips can help you avoid getting most stains on your cement surfaces.
Sealants
Applying a sealant to your garage or home concrete floors protects them from stains and keeps the cement looking new. If you want to sell your home, sealing your cement can impress buyers.
Liners & Barriers
Placing a removable, waterproof barrier between cement and things likely to stain it can be quite effective at protection. In the garage, you can line the flooring beneath your cars with drip mats. Use mats or rugs under patio furniture to catch spills and prevent rusting. Make sure to select a rug specifically designed for outdoor use. Outdoor mats and rugs don't trap water underneath them that can lead to mildew or mold on your patio. Similarly, use drip trays under any pots on your front steps or patio. Preventing runoff can spare you future stains.
Look out for Moisture
Moisture can discolor cement. Divert rainwater from the foundation using downspout extensions. This will water the lawn rather than your concrete surfaces. Stay on top of falling leaves, too. When leaves collect, they can trap moisture beneath and cause mildew and mold stains.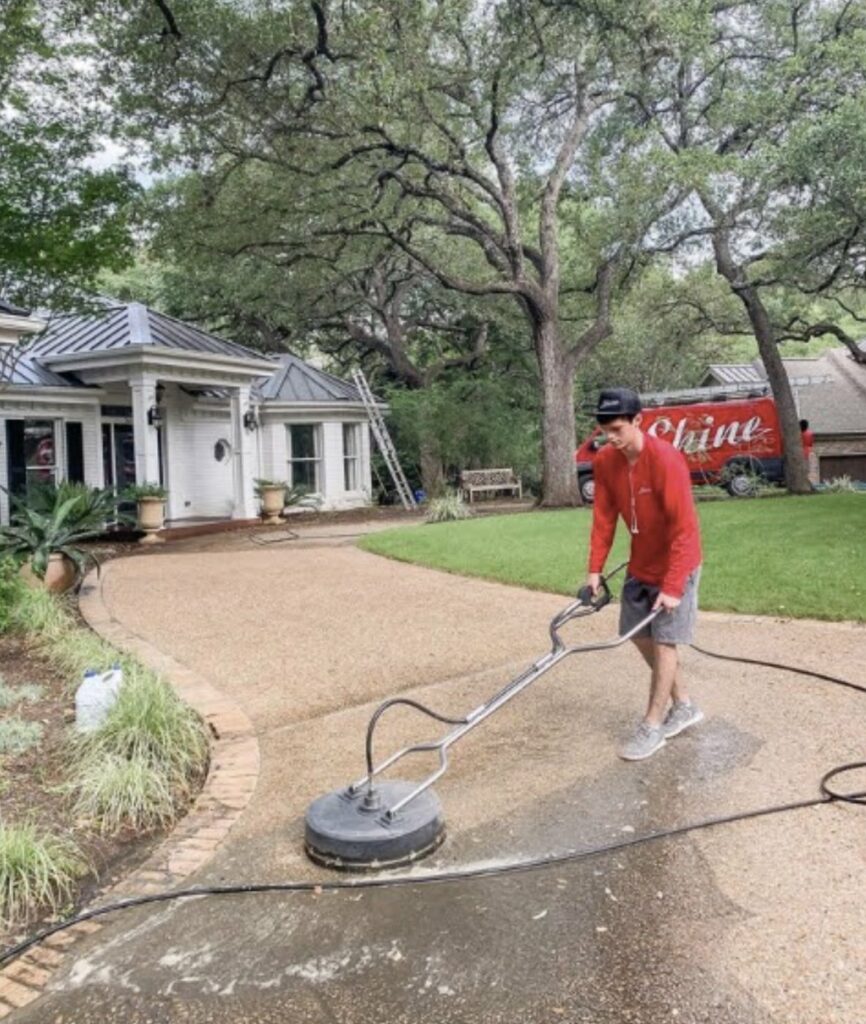 Related: Shine Named to Entrepreneur Magazine's Franchise 500 List
How Often Should You Clean Concrete?
Cleaning concrete is a year-round task, especially outdoors. You'll need to sweep cement sidewalks, patios, and steps weekly during the warmer months and once a month during the winter. Similarly, your garage should be swept at least once a month. Clean spills on the concrete immediately when you see them and use fans to dry the indoor cement areas anytime they get wet. Routine cleaning and maintenance of cement and concrete areas is the easiest way to prevent future stains.