Professional Window Cleaning Services
Our window cleaning professionals use ShineBright Crystal Water technology that extends the life and operation of your windows, prevents mold growth from build-up, increases your home's energy efficiency and lets all the light in to make your home Shine.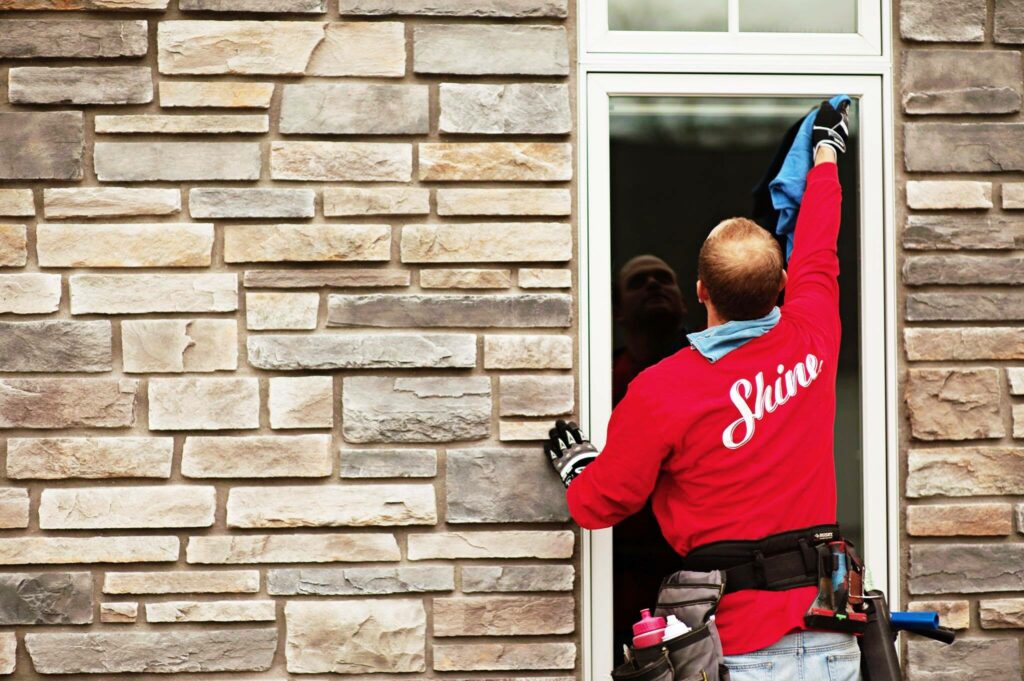 Ask About Our SHINE ON Window Cleaning Subscription 
BASIC

Complete interior & exterior window cleaning 2x a year. Every spring and fall.
DELUXE

Complete interior & exterior window cleaning 3x a year.
PREMIUM

Complete interior & exterior window cleaning 4x a year. Enjoy the view all year round!
COMMERCIAL

Choose from any of these options or our monthly commercial service.
SHINEBRIGHT CRYSTAL WATER

The technology behind ShineBright Crystal Water is safer, more environmentally friendly and less intrusive than standard water. We use an innovative purifying process to deliver the purest water on the market to clean your exterior windows. Pure water dries spot free, so there is no residue left on the window and no room for dirt to remain. 
Our ShineBright Crystal Water technology allows us to clean up to three stories safely and efficiently from the ground, helping you maintain privacy while still enjoying sparkling clean windows.
WINDOW SCREEN AND TRACK CLEANING

While we're there to clean your windows inside and out, we also clean your window screens and tracks. You've seen how the mesh design of a window screen traps bugs, pollen, and other debris. That gunk can also build up in your window tracks.  Having windows professionally cleaned enhances efficiency, but also extends window life and prevents mold growth. 
We suggest having these services completed at the same time you have your windows washed, but also offer them as standalone services.
SPECIALTY CLEANING SERVICES:
Chandeliers, Ceiling Fans & More 

Your Shine cleaning professionals can make your interior sparkle by thoroughly hand cleaning your coach lights, chandeliers, ceiling fans and mirrors! Additionally, we can change floodlight bulbs or other hard-to-reach lighting, while we're there. Just one more thing we do to make the world Shine a little brighter.
All services are covered by the Shine Guarantee.
The Shine® difference is crystal clear
I was so impressed with what a difference it made in my windows. Not to overstate, but this changed my life! My house is so much brighter, and I smile eery time I look at a window. Thank you!
The best the windows have looked in a decade. Sprinkler system stains, others have never been able to remove, are now gone. This morning's sun, coming through the windows, was the most brilliant it's been in years.