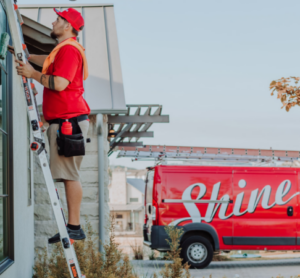 Hello Denverites, are you ready to make the Mile High City Shine?
No matter the weather, your local Denver Shine is here to create a brighter, cleaner, more sparkly community. Not only will we brighten up your home or office with sparkling, crystal-clear windows, but also by taking care of your gutters, sidewalks, patio, exterior walls, outdoor lighting, and so much more! 
Shine of Denver can brighten up your residential or commercial property year-round with our professional window cleaning, pressure washing, holiday lighting, gutter cleaning, decorative outdoor & bistro lighting, and landscape lighting design & installation services! 
Our friendly, experienced team of professionals with a proven record of happy, satisfied customers are ready to start your residential or commercial cleaning project with a 100% satisfaction guarantee. As you embark on your journey with Shine of Denver, whether you're a homeowner, landlord, or commercial building owner, we are excited that you'll help us continue toward our vision. Our servant-leadership work is fulfilled by our team during our work with you – and beyond.
You won't be able to resist looking out of your professionally cleaned windows. Our unique ShineBright Crystal Water technology can even potentially increase the lifespan of your windows by preventing mold growth, increasing energy efficiency, and more. All services are covered by the Shine Guarantee. Give us a call today for a free price estimate. 
Do the gutters on your house frequently clog? Keep your downspouts flowing like they're intended! Blocked gutters can cause issues if they're not properly cleaned.  Your local Shine team is well equipped and experienced to make sure clogged gutters on your house or office building are never a problem again. Contact us today to schedule a free estimate!

The difference that a clean driveway, patio, or walkway can make to your property is amazing! We expertly clean up moss, dirt, mildew, and tough stains that'll leave everything looking good as new. Call Shine today to schedule our team of professionals to come out to your home or place of business to deploy our pressure washing services. 
Make the season merry and bright with Shine's holiday light installation services! Sit back and relax while Shine's expert team does all the work for you! Shine of Denver will design, install, and maintain a holiday display specially created for your home. We'll even handle the storage in the off-season. Our three-year warranty includes garland and holiday wreath installation as well.
Outdoor lighting is perfect all year round for outdoor gathering spots! Light up the night at evening cookouts, backyard campfires, and much more! Shine of Denver has several options and ideas to turn your backyard into a gorgeously lit-up oasis.  
Don't let your property go unnoticed. Make it Shine with our expertly fitted landscape lighting. Shine of Denver's landscape lighting services can illuminate your patio, walkway, home facade, landscape features, or even a backyard party. We use the best outdoor lighting available, so say goodbye to your dull and dark home and let us help your home come to life with landscape lighting. 
Call us today at (303) 883-8185 or use our estimate form.