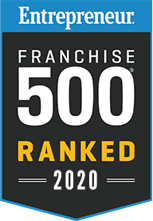 Shine Window Care and Holiday Lighting was recently ranked by Entrepreneur Magazine as one of the top 500 franchises within the United States. We are grateful for inclusion in this list not only because it's an honor to be alongside so many other great American businesses, but because it's a chance to recognize and honor the hard work of the entire Shine family.
Since Shine's inception 20 years ago, we have been continually striving to create a brighter world – and not just through clean windows that let in maximum sunlight.
Creating a Brighter World, One Relationship at a Time
At Shine, we believe that by embracing inner value, we can pursue excellence, spread positive energy, and model servant leadership – all while working safely and having fun. Through this attitude and mindset, every member of the Shine team becomes a light in the world. This light, in turn, grows and spreads through the people they are connected with, reaching across communities and the world at large.
Spreading the Shine mission wouldn't be possible without our dependable and dedicated team. Every Shine franchise owner and employee has been chosen to succeed with Shine thanks to their intrinsic understanding of and commitment to positive, value-based customer service.
A History of Service
Shine's founder, Chris Fisher, decided early on that Shine would operate on the highest standard of customer service, founded around the Golden Rule of "do to others what you would have them do to you." This dedication to service was further driven home by Fisher's experience living in Uganda for two years with his family of eight. Fisher and his family recognized that many of the children living in Uganda had a desire to learn, serve as disciples in their communities, and share their value. As a result of this experience, the Fisher family founded Arrows and Hope, which partners sponsors with children in need of education, love, and discipleship.
Every time a new Shine franchise opens, a portion of the franchise fee goes to the Arrows and Hope Program. Shine franchise owners are encouraged and supported in giving back to their local communities in whatever way their heart moves them to be of service. Collectively, Shine franchisees have supported the Starlight Shores Camp, for families of children with cancer, breast cancer research efforts, and multiple other charitable causes. Many Shine franchise owners love to provide Christmas light installations for community members who have lost loved ones and need something special during the holiday season.
We Make Homes Sparkle – So You Can Shine
Of course, none of Shine's success would be possible without customers and community members who appreciate Shine's skilled service and dedication to quality. To every Shine customer who has entrusted our team to care for your family's home, we thank you.
To continue serving new customers and spread light across America, Shine is currently welcoming new franchise owners into our fold. For more information about how you can spread Shine's light to your community, please visit our Shine franchise information center to learn more and get in touch with the team.
###
"Within all of us we believe we possess the ability to create. We all have value, and value to give…the light goes where (we) go." – Chris Fisher, Founder
"We exist to serve others, plain and simple…faith in the Creator has given me hope in this life and I feel privileged that we can help point these amazing children in that direction." – Chris Fisher, Founder
"My draw toward Shine was family. The leadership here cares so much more about your personal life and things you've got going on, being able to work next door to all the leaders here at Shine – they're all great role models." – Brayden Werley, Shine General Manager
"Really, the true thing about Shine is the culture that makes it different. Core values that are good not just in business but life and family situations as well." – Travis Hansen, Franchise Owner