If you're a homeowner, you probably want to keep your house looking young in order to boost its curb appeal. After all, we all know that improving curb appeal and taking care of the exterior can help bump your chances of reselling the home and improving its value. Staying on top of house cleaning and maintenance is not only smart but can save you money in the long run. Here are three ways you can keep your house looking youthful and in tip top shape.
1. Regular House Washing and Detailing
House washing and detailing is one of the first things you should be doing on a regular basis to maintain the appearance of your home. There are many companies that offer this service, making it easy on you as a homeowner. A full-service wash cleans your entire house from bottom to top.
First, the house and surrounding area are inspected by the cleaning company. Any fragile or valuable items are protected or moved out of the way if it is deemed necessary. Then, a cleaning solution is applied to the entire house. The cleaning solution is rinsed off to remove stubborn dirt, dust, and stains.
Detailing focuses on smaller areas of the home. Soap is applied to problem areas and then scrubbed with a brush. Everything is rinsed off with a power wash, but typically with a lower-power stream to prevent any potential problems. You're left with a clean, fresh house.
Not only does a clean house look great, it can improve property values, too. As you can imagine, cleanliness goes a long way when it comes to real estate. If your house is clean, buyers will have the sense that the house is well cared for and properly maintained.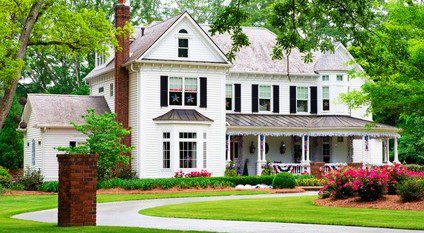 2. Annual Maintenance
Every house requires annual maintenance.
First, start by making a list of things that you need to do throughout the year to keep it in fantastic shape. The list should include everything from summer work to pre-winter checks. Think about each season and the maintenance and checks that you should be doing to keep your house looking great.
For example, at the end of every summer, you should be inspecting the paint on your home's exterior for any chips or cracks. If you own a chimney, you may have to hire a chimney sweep to give it a good clean before winter. Each spring, you may want to check your roof for any leaks and check the foundation of your house for any cracks.
The important thing to note here is that maintenance is an ongoing process and it's something you have to do on a regular basis.
3. Know the Warning Signs and Respond Promptly
If you are a new homeowner and are just learning the ropes of owning a house, it's important to know the warning signs. Some warning signs can be missed by long-term homeowners, too.
It's critical to keep in mind that the number one reason why people start having problems with their house is because they weren't aware of the warning signs of potential problems.
If you are unsure of what to look for, you may want to do some research based on your home type and location. Plenty of websites offer information on this topic, so find a good, trustworthy website and make a few notes. One of the first steps to keeping your house in great condition is to know the problems signs.
When it comes to owning a house, regular maintenance is critical for it to last through the years and retain property value. Instead of waiting for problems to pop up, try to stay on top of regular maintenance items such as washing, inspecting and repairing. Don't wait for bird droppings and dirt to accumulate which can result in permanent damage.
In order to keep your house looking young, aim to keep up with maintenance and get your house cleaned at least once a year. The longer a house goes without a deep clean, the older and worn your house can look. For house cleaning and detailing in your area, contact us today!