We are excited to announce that Mark Haskin has taken over the reins of this Kalamazoo and is eager to continue delivering Shine's services with the customer service that they are known for.
Mark Haskin brings 10 years of experience with Shine. He is also the owner of Midland, Fenton and Macomb Shine locations. He and his team are excited to build on the great work of the previous owner, who was a terrific colleague and friend over the years. The team will continue delivering the quality window cleaning, pressure washing, and Christmas light installation services Shine is known for.
Meet Tate Workman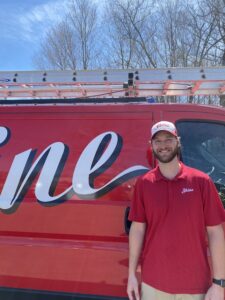 Tate is the Business Development Manager of Shine for Kalamazoo. He has his own Shine story, having worked for the Grand Rapids location for years. Most recently, Tate was a business owner and is looking forward to leading the crew members in Kalamazoo. He and his wife Hallie recently moved to the area and welcomed their first child in early April.
Chris Fisher, CEO and Founder of Shine shared, "We are thrilled to have Mark take ownership of our Kalamazoo location. He's been an owner at Shine of Midland for 6 years and has had a remarkable impact on his community there. I can't wait to see how well they grow and care for those in Southwest Michigan.
If you have any questions about the service offered by Shine of Kalamazoo or are looking for a quote for your home or business, please reach out to us today at kalamazoo@shineinfo.com or call 269-737-6635