At the Shine of Midland, we are your one-stop shop for professional window cleaning, pressure washing, holiday lighting, and gutter cleaning services. Our team is dedicated to providing top-notch services to ensure your property will Shine like new when we are finished. With Midland's harsh winters, we understand the importance of maintaining your property to its fullest potential, no matter the weather. 
Meet the Shine of Midland
We are not just about providing excellent services. At Shine, we are committed to being a light in our community. Mark Haskin, the owner of the Shine of Midland, has built a team of professionals who are dedicated to delivering exceptional customer service and making a positive impact in the lives of customers. We strive to be nicer, safer, healthier, smarter, and more ethical in every area of our business, so you can always count on us for the best possible experience.

Clean windows not only enhance the appearance of your property but also provide a clear view of the world outside. That is why our team at Shine of Midland takes great pride in providing exceptional window cleaning services that leave your windows with a crystal-clear Shine. We use safe and effective cleaning solutions to ensure that your windows are spotless and streak-free, while also taking care to protect your property from any damage during the cleaning process.
Schedule your free estimate today and experience the difference.

Don't let clogged gutters damage your property! Our team provides expert gutter cleaning services to help protect your property from costly water damage. We know the importance of keeping your gutters clear, especially during Midland's rainy seasons. Our team is equipped with the latest tools and technology to provide efficient and thorough gutter cleaning services.

Give Your Property an Upgrade with Our PRESSURE WASHING SERVICES in Midland, MI
The Shine of Midland offers top-quality pressure washing services to give your property the upgrade that it deserves. Our team will remove dirt, grime, and stains from your property's surfaces, leaving them looking like new. We take pride in providing top-quality pressure washing services that are not only effective but also environmentally friendly. We use eco-friendly solutions that protect your property and the surrounding environment, ensuring that you can enjoy the results of our services without any negative impact on the planet. Sit back and relax, let us do the work for you. Contact us today to schedule your pressure washing appointment.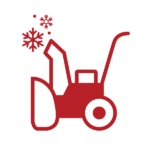 Your Go-To For Midland Snow Removal Services
Winter in Midland just got a whole lot brighter with Shine of Midland's snow removal services. As your trusted home service provider, we understand the dangers of slippery steps, icy sidewalks, and a snow-packed driveway. We've expanded our offerings to make your home worry-free, even if you're a snowbird heading south for the season. Contact our team for a free snow removal estimate, and once you approve it, we're your set-it-and-forget-it solution! You never need to call us for snow removal; we will come out every time your driveway is covered.
Available only to the city of Midland.


Make your holidays special with our spectacular holiday lighting installation services. Our team of experts understands that holiday lighting is more than just hanging a few strands of lights. That's why we work closely with you to create a custom lighting plan that perfectly fits your property's unique style and aesthetic. Whether you're looking for a classic and traditional look or a modern and vibrant display, we've got you covered.
SCHEDULE YOUR FREE ESTIMATE
Call us today or use our free estimate form here.