Christmas & Holiday Lighting Installation in Midland, MI
Don't let the winter blues get you down! Brighten up your winter with a professional Christmas light installation from Shine of Midland, MI. We know that it can be hard to get into the holiday spirit when Michigan's harsh winters come rolling in. That's why our team is here to help all of your holiday lighting dreams come true!
The team at Shine of Midland is professionally trained and insured to help create the perfect holiday lighting display for you. We'll handle everything from the design and installation to maintenance and even tear-down all while you stay warm and cozy in your home.
With so many options from traditional white lights and garland to more energetic displays including multiple colors and wreaths, we guarantee we can make your holiday vision come true!
Local Professional Christmas Light Installers Near You
Shine of Midland has been bringing light to our community and it's surrounding area for years. Each year, our team attends a national holiday light training with our 45+ franchise locations to ensure we're always on top of our game for when the holiday season comes around.
Want to find out why so many families in our community have trusted us to create their holiday lighting displays? Give us a call today to receive your free estimate!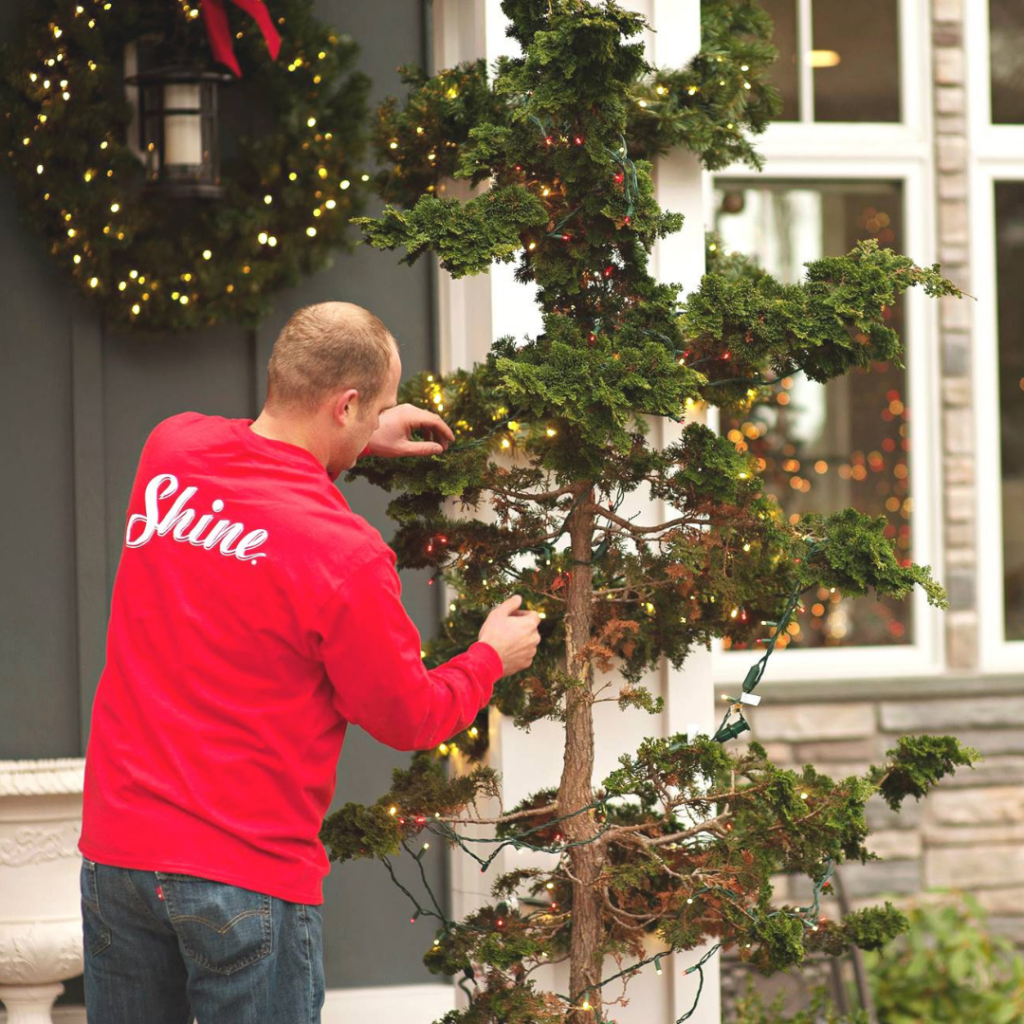 More Than Just Holiday Lighting Installation
While the lights might the star of the show, no holiday display would be complete with out garland and wreaths. Our team can safely hang greenery, wrap trees or shrubs, and more to really make your holiday lighting display pop! We'll work with you to design and plan your vision to make sure we create your perfect winter wonderland.
Commercial Christmas Light Installation
When it comes to helping our community Shine, we don't just stop at residential homes! We're fully equipped to tackle commercial projects including storefronts and offices. Help us spread holiday cheer to your customers and employees alike!
Just like with residential homes, we handle every step of the process from design to installation! At the end of the season, we'll even remove all of your holiday decor and store it safe in our facilities for you until next season!
Contact us today 989-486-9387 or request your estimate today.
Custom Installation
Work with our design team to create your dream holiday display. Our professional installation team will bring your vision to life using the best products available.
Avoid the Stress
Stay out of the cold this winter and leave the work to us. We'll make sure your home or business Shines this holiday season!
Prompt Removal and Storage
When the holiday season comes to a close, we'll be there to remove all of your holiday decor and keep it safe until next year.
Special Event Lighting Installation
Once the holiday season is over and we take the lights down, we're still here to help you Shine! Our lighting services go well beyond Christmastime. We offer a wide variety of service offerings including bistro & landscape lighting! We can help decorate your wedding venue, business, and more,
We work with many different cities and municipalities to help light and decorate buildings and trees for special occasions too.
Halloween Lighting
Outdoor Patio & Bistro Lighting
Valentine's Day Lighting
St. Patrick's Day Lighting
Work with Midland's Best Christmas Light Installers. Book Now