Kalamazoo is a city rich with unique culture and endless adventure. Kalamazoo has so much to offer– whether you enjoy exploring nature, trying delicious foods, or hopping bars. There's always something exciting to discover in this fun and inviting city! 
Serving Kalamazoo is a privilege. We've come to know all the good things about the area, but we're also aware of the weather conditions that can cause problems for the foundations of homes and commercial buildings. 
Michigan has warm, sunny summers and brutally cold winters, and the weather can change at the drop of a dime. Because of these unpredictable conditions, it's important to have a reliable company to count on for the maintenance of your home or commercial property.
At Shine, we're trained and experienced in all types of weather conditions. Our experts provide window cleaning, pressure washing, gutter cleaning, and even holiday lighting and decoration to Kalamazoo, MI!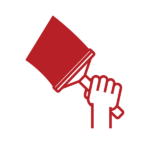 Superior Window Cleaning Services in Kalamazoo, MI
Michigan's ever changing weather can wreak havoc on the conditions of your windows. Your windows will develop layers of dust, dirt, water spots, and other seasonal grime. We provide both exterior and interior window cleaning for residential and commercial properties to get rid of these issues. 
With the help of our Shine professionals, your windows will be good as new! Our ShineBright Crystal Water pipes purified water directly onto your window for the deepest, most effective cleaning, that keeps windows cleaner longer. 
While we're there to clean your windows inside and out, we'll also clean your window screens and tracks. You've seen how the mesh design of a window screen traps bugs, pollen, and other debris. That gunk can also build up in your window tracks. Having windows professionally cleaned enhances efficiency, but also extends window life and prevents mold growth. 
Instantly boost your home or business's curb appeal with professional window cleaning!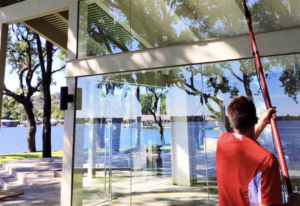 Effective, Professional Gutter Cleaning 
Leaves, ice, and other debris can clog your gutters or cause them to sag, especially during the cold months. It's important to prevent these issues before they start, because clean gutters play a critical role in preventing water damage in and around your home or office. 
Shine's professional gutter cleaning team uses specialized equipment and materials to effectively and efficiently clean your gutters, extending their life and restoring the beauty of your house or commercial building. 
Don't let the weather take a toll on your gutters. You can count on us to keep your gutters in pristine condition!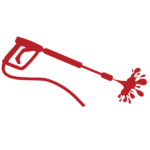 High Quality Pressure Washing Services
Pressure washing is one of the best ways to refresh your home surfaces. Whether you need to clean up dirt, rust stains or other spots, our professionals at Shine are trained and know the right washing techniques to use for your home or business to avoid damage and maintain the lifespan of your siding, roof, decking and more. 
It will help get rid of any substances that can leave areas around your home or business look shabby or run down. Pressure washing is environmentally friendly, efficient, and can make your outdoor surfaces look brand new!

Make Your Home Shine With Our Holiday Decor Installation Services
Bring some holiday cheer to your home or business this year with Shine's holiday lighting installation service! Our experienced team will make your dream holiday display come to life.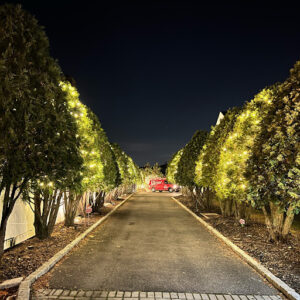 When you hire Shine to install your holiday lighting, you can relax and enjoy a superior lighting display installed with care and consideration for your home or business with high-quality lighting. Once your design is complete, our team will handle the maintenance, removal, and even storage of your holiday decor in the off-season! 
Shine also provides stake lighting for walkways, garland and holiday string lights for pillars and porches, wreath hanging and more.
We'll put the brightness back into your celebrations!
Schedule your free estimate!
For more information or to schedule our team for a service, call us today at 269-737-6635 or use our estimate form.