Christmas & Holiday Lighting Installation in Kalamazoo, MI
In Michigan, we never know what the weather is going to be like, and hanging Christmas lights in the cold, rain, hail, snow, or wind is not fun! Enjoy the holiday season in the comfort of your home and let Shine of Kalamazoo do all of the heavy lifting when it comes to holiday lighting this season.
Come home to a magical home all lit up or have your customers walk into an office full of holiday spirit. Neighbors and customers love when buildings are full of holiday lights. With Shine of Kalamazoo, all of your Christmas decorations will be taken care of!
Shine will not only install your lights and make your home or business glow. Shine will help with the design, installation, maintenance, and we'll even come back to take it down and store it at the end of the season!
Not sure what kind of lighting you want? No worries, Shine can help you design it! We have endlesses options of lighting and holiday decor. Choose fun bright colors or go with a classy warm bulb look. Add in decor like garland, bows, and wreaths. 
With Shine, all of the lighting is installed with special clips making sure your home isn't damaged and the lighting is secure. We can also add more than just lights, choose garland to wrap your pillars with or line your walkways with decorations.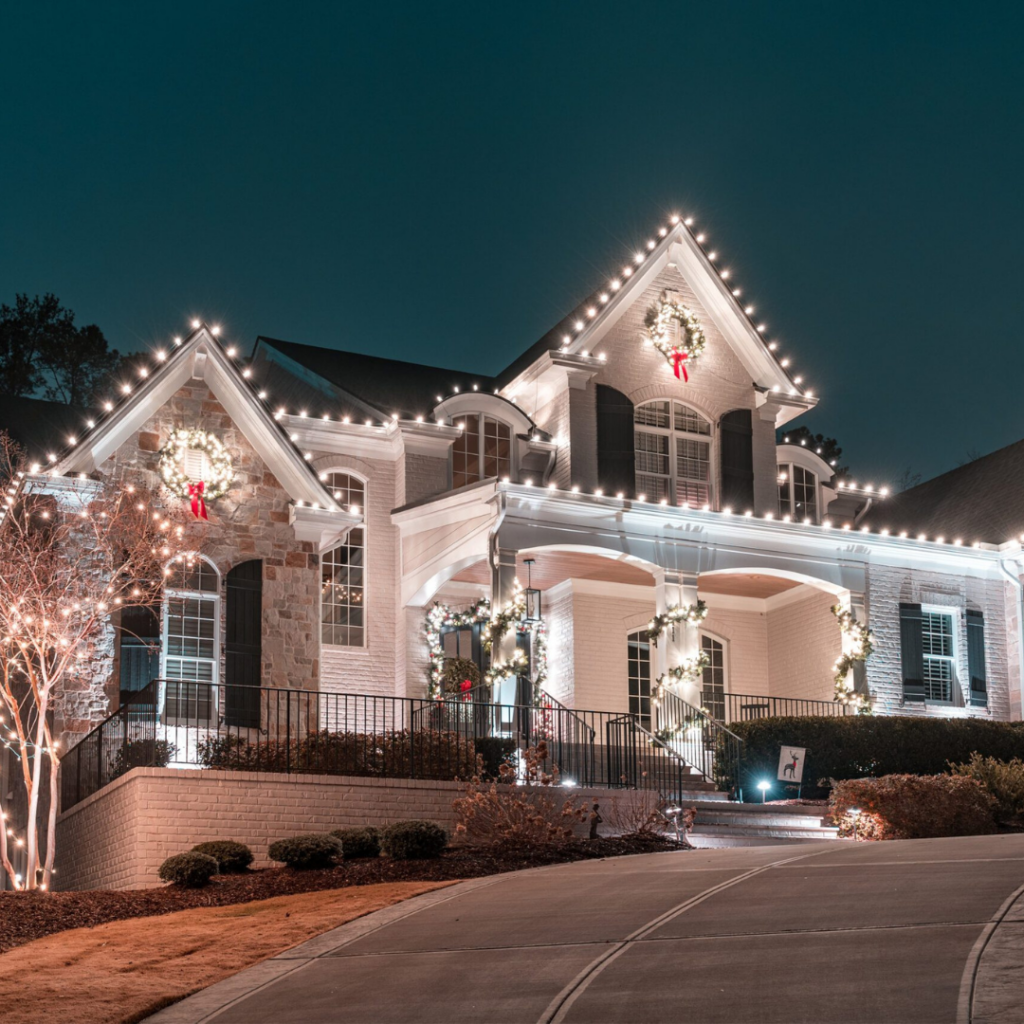 Local Professional Christmas Light Installers Near You
Shine is not only local to Kalamazoo, Michigan but we have franchises all over the country. Our team has been installing lighting for years, and every year our 45+ other locations attend our national holiday lighting training to ensure we're always up to date on the latest holiday lighting trends and techniques.
With Shine Holiday lighting, you're always guaranteed high-quality products and excellent customer service from our insured team! We love working with our customers in Kalamazoo, MI year after year.
Don't let the craziness of the holiday season take away from decorating your home or business. Contact Shine for Christmas lighting installation. Appointments fill up fast! Book Now! 
More Than Just Holiday Lighting Installation
Shine of Kalamazoo goes beyond just holiday lighting! We can provide all of the greenery and decor that you could ever need. We love adding wreaths and garland to complete your holiday installation. We have all of the tools and equipment necessary to wrap trees and shrubs, or even to add holiday stake lighting along walkways!
We will work with you to perfectly design your home and turn your vision into reality. Your vision becomes ours, we want to work with you directly to achieve a beautifully decorated home so you can enjoy the holiday season.
Commercial Christmas Light Installation
Commercial Christmas lighting is so important for businesses, it gets your employees and customers excited for the holidays and ready to spread the joy. We're so grateful to have the opportunity to work with business owners all over Kalamazoo! Shine can decorate your buildings inside and out.
We'll not only design and install decorations for your business to be a winter wonderland, but we'll also take down decorations and store them for next year. No more tote bins full of holiday decor cluttering your back room!
Special Event Lighting Installation
While Christmas light installation is a big part of our business, our lighting products are ideal for special events any time of the year. From wedding venues, businesses or being that standout seasonal home, we can provide professional lighting for other occasions too.
We work with many different cities and municipalities to help light and decorate buildings and trees for special occasions too.
Halloween Lighting

Outdoor Patio & Bistro Lighting

Valentine's Day Lighting

St. Patrick's Day Lighting
Work with Kalamazoo's Best Christmas Light Installers. Book Now