Looking for a team of reliable and experienced professionals to take care of all your home maintenance needs in Grosse Pointe? Look no further than your talented Shine location! Our team of experienced professionals prides itself on keeping the community looking beautiful. We offer home maintenance services such as window cleaning, gutter cleaning, power washing, holiday lighting installation, and more.
Nestled on the southwestern shore of Lake St. Clair, Grosse Pointe is a community renowned for its stunning homes, picturesque tree-lined streets, and lakeside recreational facilities. With its history as a farm community known for its cherries and later becoming home to the opulent mansions of auto barons, This suburb of the Motor City is a true gem in southeast Michigan.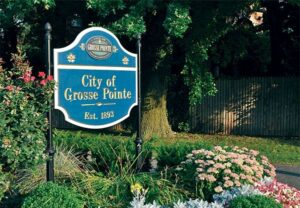 Meet the Shine of Grosse Pointe – Where Exceptional Service Meets Expert Ownership!
We couldn't be more excited to welcome you to the Shine of Grosse Pointe, a place where smiles are abundant and service is top-notch! Meet Mark Haskin, our proud new owner – a true entrepreneur with a passion for making your experience unforgettable. Mark's expertise and success are well-known, and he's now brought his magic to Grosse Pointe! With his guidance, our team is geared up to exceed your expectations and brighten up your day. Speaking of excellence, Mark's ownership of the thriving Shine of Macomb is a testament to his commitment to serving our community. At the Shine of Grosse Pointe, we're all about going the extra mile. Our dedicated team shares the same vision – delivering unparalleled customer service and making a positive impact on your life. You are more than just a customer to us; you're a valued member of our community.

GET CRYSTAL CLEAR VIEWS AND A BEAUTIFUL GROSSE POINTE HOME WITH PROFESSIONAL WINDOW CLEANING SERVICES 
Window cleaning is an important part of maintaining the beauty of your home in Grosse Pointe. Over time, windows can accumulate dirt, grime, and other debris that can negatively affect the appearance of your property. At Shine of Grosse Pointe, we provide professional window cleaning services to keep your home looking its best. Our team of experienced professionals uses the latest techniques and equipment to leave your windows spotless and streak-free. Let us take the hassle out of cleaning your windows, so you can enjoy a beautiful, well-maintained home. 

CLEAR THE DEBRIS AND PROTECT YOUR HOME WITH GROSSE POINTE'S EXPERT GUTTER CLEANING SERVICES
Gutter cleaning is a critical maintenance task essential in protecting your Grosse Pointe property from potential water damage and costly repairs. Leaves, twigs, and other debris can accumulate in your gutters, clogging the flow of water and potentially causing harm to your home's foundation. At Shine of Grosse Pointe, we provide professional gutter cleaning services to keep your gutters clear and in proper working order. Our experienced team uses specialized equipment and techniques to remove all debris, so you don't have to worry about climbing up on a ladder yourself. With our help, you can enjoy peace of mind knowing your property is protected, and your gutters are functioning properly.

Pressure washing is an effective way to clean the exterior surfaces of your home. It's essential to use the proper techniques and equipment to avoid damage to your property. At Shine of Grosse Pointe, our professional pressure washing services are designed to keep your property looking immaculate. Without causing harm to your surfaces. Our team of experts is experienced in cleaning surfaces such as concrete, brick, siding, and more. We take the time to carefully assess each job to ensure the right amount of pressure and technique is applied to leave your surfaces looking new. With our high-quality pressure washing services, you can enjoy your beautiful and well-maintained property.

During the holiday season, the prospect of installing and taking down holiday lights can be overwhelming. That is why Shine of Grosse Pointe is here to make your life easier! Our experts offer high-quality lighting installation services to ensure you can focus on the joys of the season with family and friends.
Our staff will work with you to craft a display, including lights, wreaths, and garland, that will be the envy of your neighborhood. Whether you are going for a timeless and sophisticated design, or something fun and jolly, we have you covered! We handle the setup, take-down, and store your decorations for next year, so all you need to do is relax and enjoy the season. With our expert holiday lighting installation services, you will have a stunning setup that will add cheer to your community without the burden. Reach out to us today to book an appointment and make your holidays shine!

Landscape lighting can enhance your Grosse Pointe property value and highlight its beauty at night. Well-placed landscape lighting can also increase the safety and security of your home.
At Shine of Grosse Pointe, our team of experienced professionals takes great care in designing and installing outdoor lighting that will create an inviting atmosphere and make a great first impression.
Whether you're looking to accentuate a walkway, showcase a beautiful garden, or create a dramatic effect for your home's facade, our team has the knowledge and expertise to make your vision a reality. We use top-quality lighting fixtures and the latest technology to ensure your property is perfectly lit and illuminated.
SCHEDULE YOUR FREE ESTIMATE
Call us today at 586-933-6286 or use our estimate form here.