Professional Window Cleaning Benefits
While cleaning windows might not seem hard, it can be daunting if you have windows located on several floors or in hard-to-reach places. Hiring a professional team will help get the job done safely and correctly, giving you peace of mind and beautiful windows. Let's look at a few benefits of a professional window cleaning service. 
Do you need a professional company to clean your windows? Shine is ready for the task! Schedule an appointment today at your local Shine!
What Is the Importance of Window Cleaning?
When someone looks at your home, one of the first things they notice are the windows. Unfortunately, many people neglect cleaning windows. However, having windows cleaned regularly can improve the home's overall appearance 
Clean windows allow more natural light into your home. Over time, windows can become dull due to hard minerals, oxidations, and acid rain. That can make the windows appear dark. Having a professional clean your windows will remove all the pollutants and contaminants from the glass. 
Related: Three Reasons to Hire a Professional Window Cleaner
What Are the Advantages of Hiring Professionals for Window Cleaning?
There are numerous benefits to hiring a professional window cleaning team. When hiring professionals you never have to worry about handling the job by yourself. Cleaning windows can be tricky, especially when you need a ladder. This work can be tedious and dangerous, to save yourself from the hassle choose to work with a professional window cleaning company. 
Here are some of the other advantages of professional window cleaning.
Extend the Life of your Windows
Regular window cleaning makes your glass shine like new and extends the life span of your windows. Cleaning prevents dirt, debris, and other contaminants from pitting and scratching the glass. As that debris collects on the windows, it could etch into the glass, causing you to replace the windows. You can save yourself from that expensive problem by cleaning them weekly or monthly. When you regularly clean your windows, they will last longer. 
Spot Problems Before They Become Costly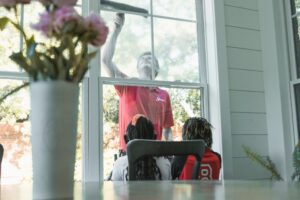 Since professional window cleaning teams have plenty of experience, they know when something doesn't look right. As they clean your windows, these experts also keep an eye out for potential problems, such as damaged frames, seals and glass. When those problems are addressed, you can save on hefty repair or replacement costs down the road. 
Use the Right Tools and Quality Products
If you want to make the job easier, you need the right tools and products for the project.
Using high-quality tools makes a difference. With the right tools, the team can tackle all of the dust, dirt, and grime on the interior and exterior of your windows. 
Professional products are designed to be safe and guaranteed to produce beautiful results. When you hire a professional you don't have to fuss to find the right extension poles, buckets, ladders, and cleaning solutions for the job. 
For those homes with specialty glass, such as tinted, coated, or stained glass, a professional company knows how to clean those surfaces without causing any damage. 
Related: Getting An Accurate Window Cleaning Quote  
Safer Option Than DIY
Remember that not all windows are the same. If you have a variety of casement, triple-track storm, or double-hung windows, there is no one-size-fits-all cleaning solution. A professional team can safely clean all of these window varieties. Professionals also have the right equipment to reach those tough spots, like the upper levels and skylights. You will never have to rent equipment or haul out a ladder to clean the hard to reach windows. 
Is A Window Cleaner Worth It?

The ultimate decisions are up to you. Yes, professional window cleaning is another expense, but many people believe it is worth the cost. You never have to struggle to clean those windows by yourself. A professional service saves you time and more money in the long run. Regular cleaning is also considered a preventive maintenance measure, leaving you with clean windows that last much longer.
Related: Shine Window Cleaning — A Whole New Look 
Choose a Professional for Your Window Cleaning Needs
The window cleaning professionals at Shine have been trained in the latest methods and have experience cleaning all types of windows while accommodating any budget. 
Want your windows to shine? Book your professional window cleaning at your local Shine today!