For many families, checking out holiday light displays is a treasured tradition. Luckily for us, Houston has some of the best neighborhoods when it comes to decorating for the season! Here are our favorite Houston light displays that won't disappoint.
Related: Bob Vila: Shine Is the Best For Outdoor Lighting
1. River Oaks
If you know the Houston area, then you likely know all about River Oaks. It's a wonderful place to check out all of the magnificent homes on a regular day, but during the holidays, it's a sight worth traveling to see! While every home in the neighborhood might not be decked out in Christmas lights, many of them are, and they are extremely well done. If you stop by River Oaks this holiday season, you'll be in for a treat with all of the cascading lights flowing down from the beautiful oak trees.
We recommend checking out the stunning views near the River Oaks Country Club and the holiday light displays at the corner of River Oaks Boulevard and Inwood drive. It's a beautiful area, but it can be busy, especially as the holidays get closer.
2. Shepherd Park Plaza & Candlelight Plaza
Where these two Houston neighborhoods join—east of 290 and north of 610—is known for some of the best holiday light displays in the area. They've been going at it for years, and the displays this area comes up with are always among our favorites. From streets and streets of homes glittering with glowing lights to themed cul-de-sac competitions, it's a must-see for sure.
We recommend starting on either Martin Road or Thornton and making a stop by Bethlehem Street as you weave through the beautiful displays. Bethlehem Street always features giant inflatable decorations, personalized cutouts, window dioramas, and of course, Christmas light displays!
3. Pecan Grove
While it might be a further drive for some, Pecan Grove is worth it! It's near the top of most locals' must-see display lists because the neighborhood always goes all out. Almost every single house participates in holiday decorating, many of the lights are choreographed to our favorite holiday tracks, and there are even hayrides on the weekends. For $5, you can get a hayride ticket, a photo with Santa, and a cup of hot chocolate—perfect for a stroll through the light displays on a chilly winter night.
4. The Heights
The Heights is another one of the must-see Houston neighborhoods during the holidays. It's a beautiful, quaint, and charming area, especially during Christmas time. If you drive by to see the holiday light displays, be sure to check out the Lights in the Heights festival. It's a free Christmas festival organized by the neighborhood, and while it's not as big as it once was, it's still worth seeing! If you drive by anytime during December, you're sure to see some of the most beautiful light displays in the Houston area.
5. Green Tee
Green Tee is another one of those neighborhoods that has been going all out for the holidays for many years. They host various lighting competitions, hayrides, and tons of houses decked out with the best holiday lights and decorations. We've seen some truly spectacular displays! It's a great family-friendly experience, and if you want to get out and walk through the displays instead of driving by, it's a great neighborhood to do so. You don't want to miss the Green Tee holiday lights!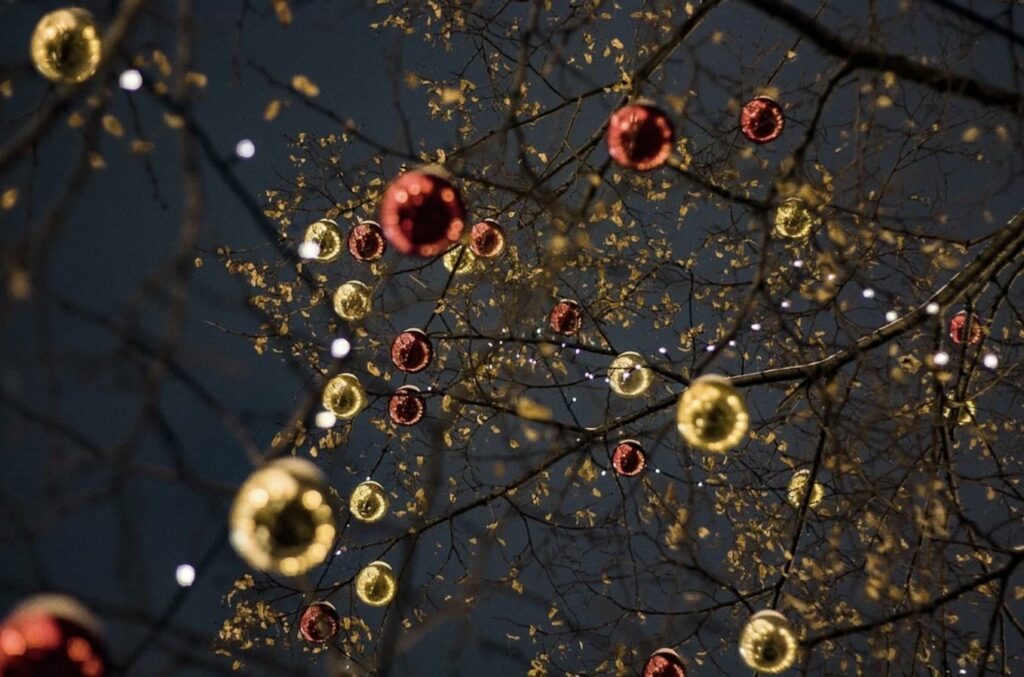 Related: Christmas Is Coming!
6. Briargrove
Located between Chimney Rock and Voss and Westheimer and San Felipe, Briargrove is a beautiful front-yard neighborhood featuring tons of stunning oak trees that are always overflowing with lights during the holidays. It's a family-centered neighborhood that really does go all out for Christmas time. It's a perfect stop to see some beautiful holiday light displays in Houston, especially for families with young children.
7. Prestonwood Forest
If we had to choose a single place as our favorite holiday light display in Houston, it would have to be Prestonwood. Just northeast of Tomball Parkway and north of Willowbrook Mall, the homeowners here have decked out the neighborhood for Christmas for over 40 years. There are hundreds of houses that participate in light display competitions with their dazzling inflatables, themed displays, and stunning lights. It's a magnificent experience for anyone looking to see some of the best holiday light displays in Houston.
8. Panther Creek & Alden Bridge
While many neighborhoods in The Woodlands area feature entire streets full of light displays and decorations, the Alden Bridge and Panther Creek neighborhoods always guarantee a good time during the holidays. They have some of the best light displays around, and many of them are choreographed to classic Christmas songs. So, sit back and drive through these two beautiful neighborhoods and soak up the season with the stunning light displays.
9. The FM 1960 Display in Dayton, TX
For those a little further north, there's a massive holiday light display in Dayton on FM 1960. It's one of the largest light displays we've ever seen. Imagine hundreds of decorations like snowmen, reindeer, sleighs, Santa, angels, and more paired with thousands and thousands of lights! They sync the whole show up to Christmas music. There's no going wrong with this light display, and you'll be sure to find yourself grinning at the entire show.
10. The Christmas Ranch in Cleveland, TX
For over 30 years, a Cleveland family has been lighting up the area with their Christmas Ranch—a light display that you don't want to miss. Every year, the family invites the entire community to stop by and enjoy the magnificent light displays. While they do take donations that benefit people in need in the area, you and your family can view the stunning light show for free!
Is Your Home Ready For the Holidays?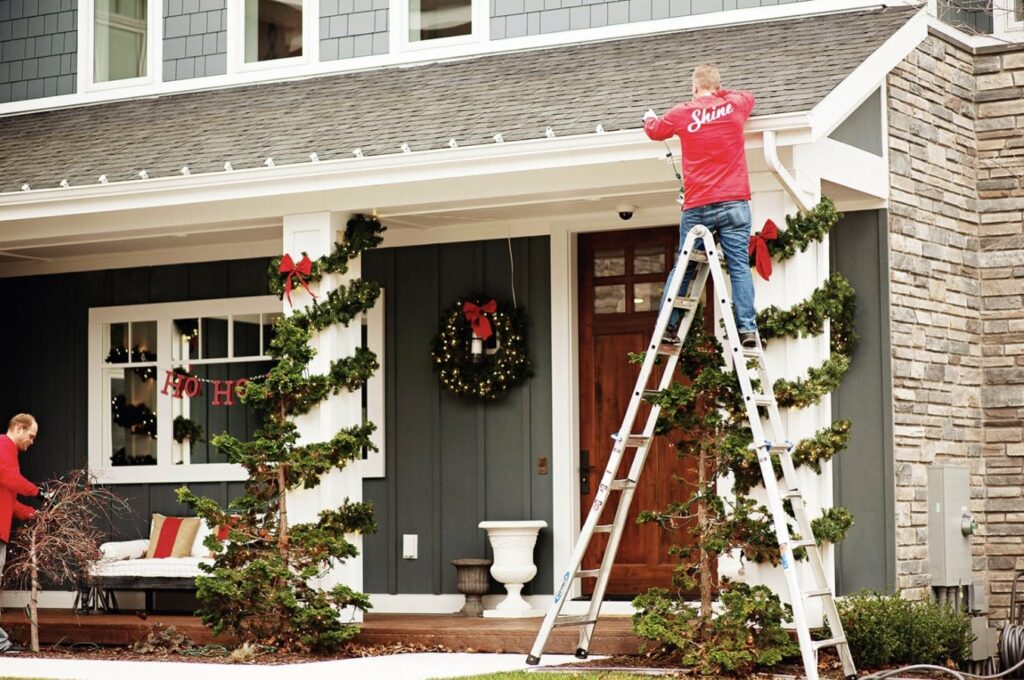 Want to have the best light display in your neighborhood? Stay warm and cozy during the holiday season, and let Shine take care of your holiday lighting.
Design ✔
Installation ✔
Maintenance ✔
Removal ✔
Storage ✔
Our holiday lighting services for 2021 will be completely booked soon—Contact Shine to book your appointment today! We proudly serve homes in Houston, Bellaire, Highland Park, and more!