Premier Window Cleaning Services in Ann Arbor, MI for Homes & Businesses
Shine's window cleaning services are high-quality, reliable, and efficient! Our team of experts are ready to help you restore the life and function of your windows, and leave you with results you'll love.
There are so many reasons why we love Ann Arbor. It has a unique history, vibrant culture, and the non stop excitement that U of M provides— Go Wolverines! 
Having property in Michigan requires professional window maintenance to prevent and solve issues that arise in unpredictable weather. Shine can keep your home or business looking its best and shining all year round—regardless of the weather Michigan throws our way.
We'll work hard to tidy up your windows, prevent damage, and leave them looking crystal clear while providing optimal functioning.
We have a superior service that allows us to provide our customers with a one-of-a-kind experience. It's why communities around the country choose us for their window maintenance needs.
We'll Help Your Home or Business Shine With Our Advanced Services and Technology
Shine's exterior and interior window cleaning for residential and commercial properties is a service that is simply unmatched by any other company! When you choose us for your window maintenance needs, we won't quit until you're 100% satisfied. 
We use ShineBright Crystal Water technology, which is uniquely crafted to extend the life and operation of your windows and prevent unwanted buildup, resulting in a fantastic appearance that will boost the appeal of your home or business. 
Our technology is also environmentally friendly and less intrusive than standard water, and our purifying process allows us to deliver the best quality of water for your windows that you won't find anywhere else. Additionally, we'll provide outstanding customer service to ensure that you have the best experience while you work with us.
Our high-quality service and dedication to our customers have allowed us to create a foundation for our business that is unbeatable.
Simply select the frequency you want, and get ready to SHINE ON: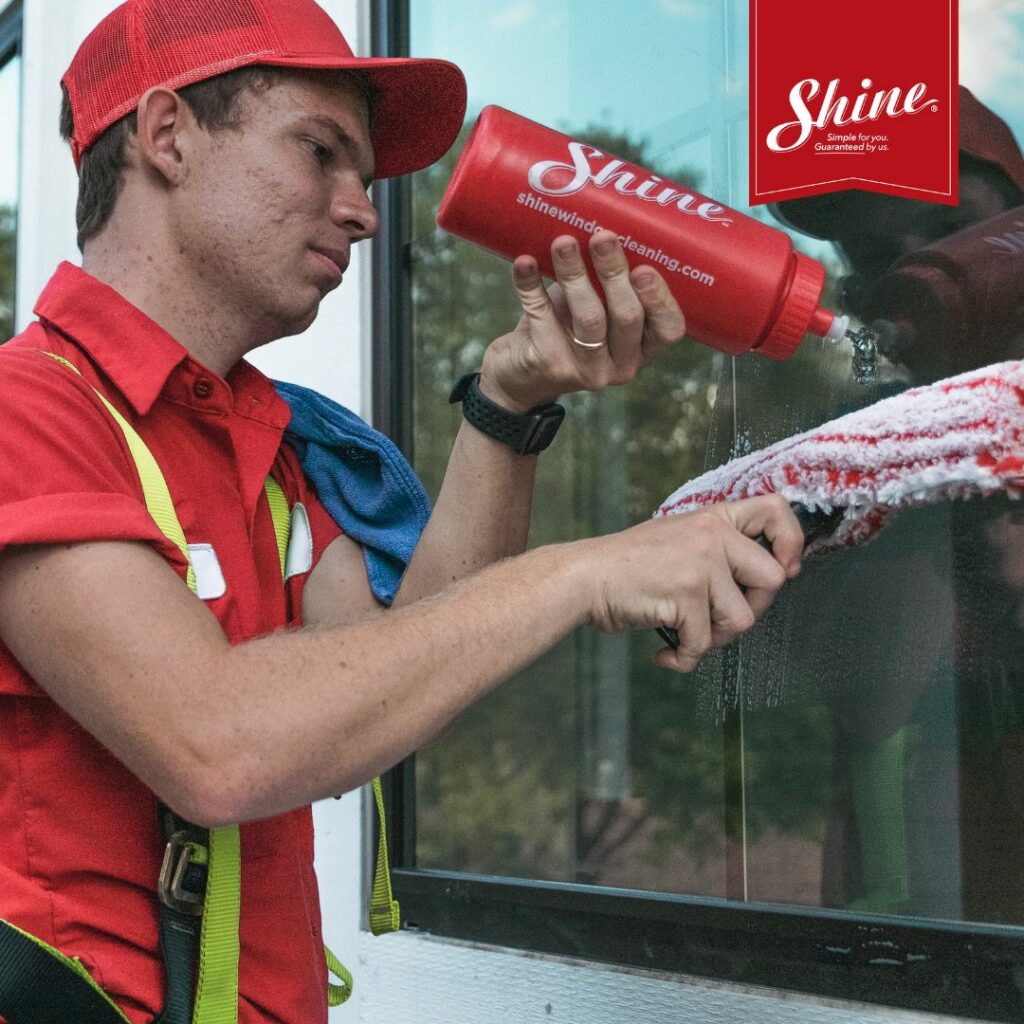 THE BENEFITS OF PROFESSIONAL WINDOW CLEANING WITH SHINE