Hello, friends and families of Chicagoland! We're Jeri and Joe, proud parents of four incredible kids and owners of Shine of Chicago North. As we prepare for our nest to become a little emptier, we want to share some of our secret gems that have played an instrumental role in our children's upbringing.
As passionate advocates for child development, we believe in providing young minds with ample opportunities to explore their interests, talents, and just to have fun. Over the years, we've discovered some incredible local businesses and organizations in Chicagoland that offer unique experiences to help children grow and thrive.
Fostering Independence
Schoolhouse Kitchen – One of the most important skills a child can learn is independence. With three locations in Chicagoland, Schoolhouse Kitchen (iloveschoolhouse.com) offers a hands-on experience that gives children the skills and confidence to prepare healthy food. It's amazing to see the pride and joy on their faces when they create their first dish.
Mind Body Defense – Empowering children with the knowledge and confidence to handle uncomfortable situations is critical in this day and age. The team at Mind Body Defense (mindbodydefensechicago.com) does exactly this. Torriente's methodical instruction provides pre-teens and teens the confidence they need to navigate their environment, be it at school or on the street.

Building Physical and Mental Endurance
Magnus Fitness & Performance – Developing physical and mental endurance goes hand-in-hand with fitness. Anthony Jarrett, a Certified Personal Trainer at Magnus Fitness & Performance, brings his extensive experience to the table, helping budding athletes prepare themselves physically, mentally, and spiritually for a wide range of sports. His Facebook page is filled with inspiring success stories and useful tips for both beginners and seasoned athletes.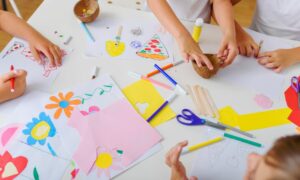 Nurturing Creative Expression
Infinity Arts Academy – Every child has a unique voice and perspective, and it's essential to give them an outlet to express it. Infinity Arts Academy (infinityartschicago.com) offers instruction for both live and filmed performances, helping children explore their passion and gain confidence. Whether your child dreams of standing on a Broadway stage or simply loves the thrill of performing, this academy can awaken their potential.

Social Development Through Play
Our little ones need safe, engaging environments to develop their social skills. Sandbox Baby Boutique, a charming children's store in Andersonville, provides the perfect opportunity. With an indoor "sandbox" for play, your kids can engage with peers while you shop for the latest cute styles. Check out their Instagram page (@sandbox_baby_boutique) for a sneak peek.
Supporting Parents
Raising children is both rewarding and challenging. At Shine of Chicago North, we understand these challenges and we're here to support you. Whether it's providing resources for parenting or taking care of your window cleaning and pressure washing needs, we're here to help you focus on what truly matters – the joy of seeing your children grow and thrive.
Making Chicagoland a brighter place is our vision. Join us in this journey and let's empower the next generation together. We hope you find these resources as valuable as we have in our parenting journey.
Happy parenting, Chicago!