Professional Residential Window Cleaning Services in Rockwall, TX
Enhance Your View with Rockwall's Premier Window Cleaning Service
Welcome to Shine of Rockwall, the trusted local provider of window cleaning services that put a sparkle on Rockwall's scenic landscapes. A small town with a big heart, Rockwall, Texas is home to a community that values the unique blend of history, charm, and vibrancy that our town offers. Our team of experts, deeply rooted in this community, is here to ensure that your windows reflect the unparalleled beauty of our surroundings, with a 100% satisfaction guarantee on all our services.

Reach out to us at (972) 520-1889 or fill out our free estimate form.
Comprehensive Window Cleaning Services
In a climate marked by hot, humid summers and cooler winters, maintaining a clear view of Rockwall's charm can be challenging. But with Shine of Rockwall, your windows remain crystal-clear, no matter the season.
Our team provides a range of window cleaning services including interior and exterior cleaning, screen and track cleaning, and even specialty services to cater to the unique needs of our Rockwall community. Using the latest cleaning techniques and equipment, we ensure your windows always provide the best seat in the house.
With our exclusive ShineBright Crystal Water Technology, we take window cleaning a step further. This advanced formula not only results in incredibly clean windows but also aids in extending their life by preventing mold growth, minimizing debris build-up, and increasing energy efficiency. 
Keep Your Windows Gleaming with Our Shine On Plan
With the Shine On Plan, you can enjoy the beauty of Rockwall through impeccably clean windows all year round. We take the hassle out of window cleaning with automated scheduling and billing so you can focus on the view.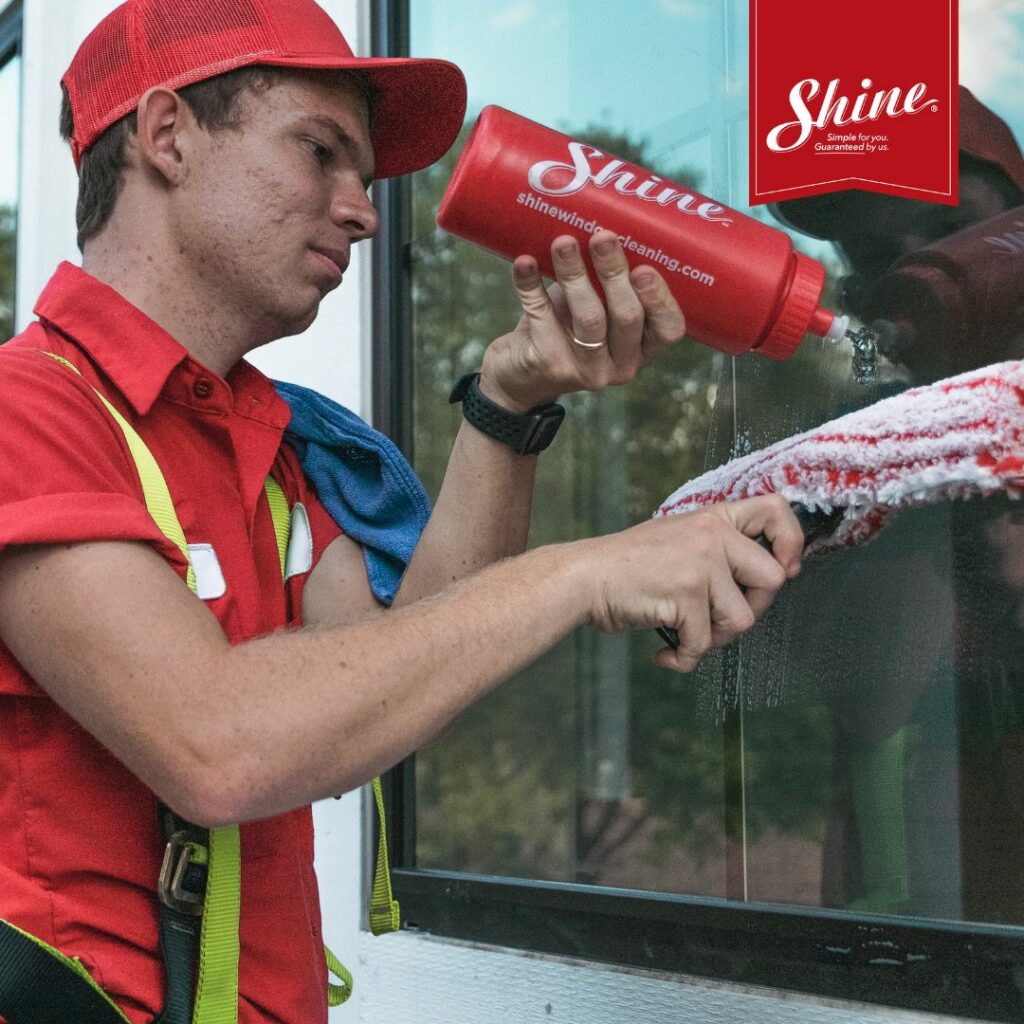 THE BENEFITS OF PROFESSIONAL WINDOW CLEANING WITH SHINE
The Shine of Rockwall Difference
At Shine of Rockwall, we go beyond providing exceptional cleaning services. We are committed to reflecting the unique charm of Rockwall through every window we clean. Whether it's a storefront downtown, a home by Lake Ray Hubbard, or a historic building in our Texas Main Street City, our team is dedicated to serving the community and leaving it brighter than ever before.