Christmas & Holiday Light Installation in Lakeway, TX
Shine of Lakeway provides the Austin area with holiday and Christmas light installation services. Our professional christmas light installers are excited to bring your vision to life while you sit back and enjoy all that this holiday season has to offer.
We know the winter in Texas can be unpredictable after the recent record-breaking winters. So don't worry about standing up on that ladder in the deep freeze this year, let us handle your Christmas lighting installation. We'll handle every step including design, installation, maintenance, removal, and even storage of your holiday lighting!
Shine of Lakeway can bring an award-winning Christmas light installation to your home or business this holiday season! Brighten up the neighborhood with our commercial or residential holiday lighting program.
We help design, plan, and install your Christmas lighting, and we will come back to take it all down and store it for next season. Our Christmas lighting installation packages can be customized to fit your needs. We offer white or colored bulbs, a candy cane look, and more. Come home to a decorated house this year, hassle-free, with Shine of Lakeway.
Local Professional Christmas Light Installers Near You
Shine of Lakeway is local in the Austin metro area where our crews have been installing Christmas lights and décor for years. Our Christmas light installers attend our national holiday lighting training each year with our 45+ other franchise locations to make sure we are providing the best holiday lighting services in the country.
Our customers receive professional service, high quality products, and national backing with local owners who enjoy working with our customers year after year!
We're insured and experienced holiday light installers in Lakeway, Texas. Our Christmas lighting installation appointments fill up quickly, book yours today!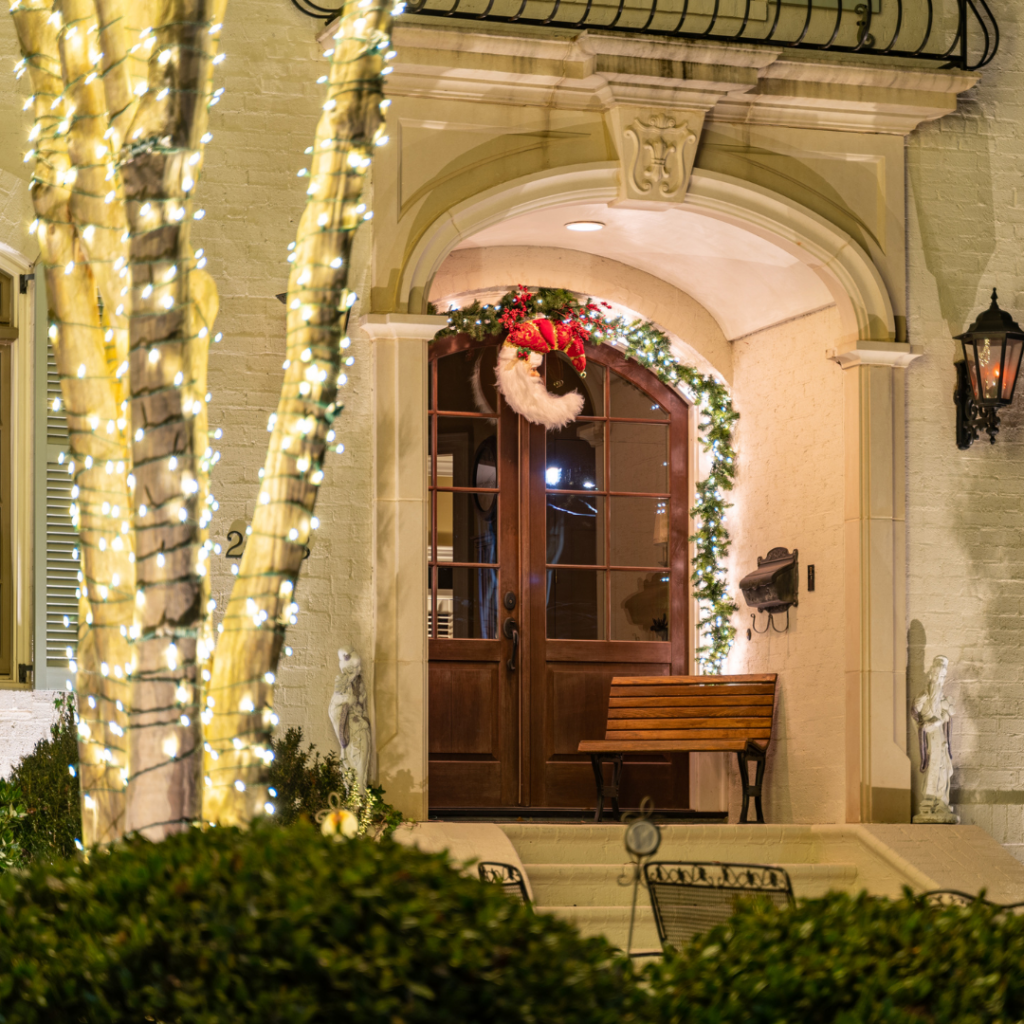 More Than Just Holiday Lighting Installation
Looking for more than just holiday lighting installation? Shine of Lakeway also offers wreaths and garland to complete your home or business holiday decoration. We even offer decorations for trees and shrubs.
From designing and planning a lighting installation, to hanging, removing, and storing them, Shine of Lakeway is here to make your holiday season relaxing and bright.
Commercial Christmas Light Installation
Brighten up your business or commercial building with Shine of Lakeway. We offer Christmas lighting installation and decoration inside and out. We will help you design your ideal holiday decoration set up that your customers and employees will love.
Help bring the holiday spirit to your customers and employees with a dazzling holiday lighting display! Celebrate this holiday season, hassle-free, with our commercial Christmas lighting installation and decoration program.
Contact us today (512) 784-9680 or request your estimate today!
Contact Us
1008 Ranch Rd 620 S Suite 102
Lakeway, TX 78734
(512) 784-9680
Special Event Lighting Installation
Christmas lighting installation is a big part of our business, but that's not all we do! Shine of Lakeway also offers lighting for special events any time of the year, and because our lighting products are ideal for all events and celebrations, we offer lighting for wedding venues, business events, and other occasions.
We work with many different cities and municipalities to help light and decorate buildings and trees for special occasions too.
Halloween Lighting
Outdoor Patio & Bistro Lighting
Valentine's Day Lighting
St. Patrick's Day Lighting
Work with the Austin Metro Area's Best Christmas Light Installers. Book Now!