We spend a lot of time and effort keeping the inside of our houses clean. We vacuum, dust, and wipe down and disinfect surfaces in our kitchens and bathrooms. But did you know that the outside of your home needs regular cleaning as well? Just like cleaning indoor surfaces removes dust and mildew, improves appearances, and increases longevity, cleaning the exterior of your home improves curb appeal and helps to maintain the condition of your home's exterior.
Regular Window Cleaning Improves Curb Appeal and Increases Energy Efficiency
Windows are the "eyes" of your home, and when they look dusty or streaked, it can affect the whole appearance of your home's exterior and interior. Dull, dirty windows not only make the exterior of your home look dingy, but they can also reduce the amount of sunlight that comes in, creating a darker environment. Shine Window Cleaning in Norman, OK knows that sparkling clean windows not only improve the curb appeal of your home, but can increase energy efficiency and protect your windows so they last for many years to come.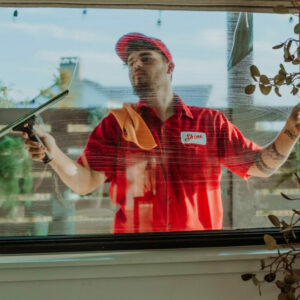 When you schedule regular window cleaning, the dirt particles and mold that have built up on your windows are removed so that sunlight is able to shine through. This not only creates a brighter, more inviting interior space, but allows for your home to be warmed more efficiently. Window cleaning also increases the effectiveness of the Low-E coatings and Low-E insulation on your windows, but care must be used to avoid damaging these coatings. Shine Window Cleaning in Norman, OK has the tools, cleaning solutions and expertise to clean your windows safely so you receive all of the benefits of sparkling windows while protecting them from damage.
For most exterior windows, they use ShineBright Crystal Water technology to pipe purified water directly onto your windows for the most thorough and spot-free cleaning. This method of cleaning does not leave behind a soapy residue that can attract dust particles, so your windows will stay clean for longer. Shine can also clean the tracks of the windows of any debris so they operate smoothly and don't become damaged.
House Washing Brightens Your Home's Exterior
It is not just your windows that need to be cleaned on a regular basis, but all of your exterior surfaces as well. Decks, fences, patios, driveways, and siding are all exposed to the elements every day and can become covered in dust, stains, mildew and moss that hides and dulls their beautiful surfaces. When that film is removed, your home's exterior will look much brighter and cleaner. Removing the debris can also help increase the longevity of these surfaces and prevent them from deteriorating.
All surfaces are not the same, however, and different surfaces require different methods of cleaning to avoid damage. The professionals at Shine Window Cleaning in Norman, OK have the expertise to know which methods of house washing are right for every surface. They will clean all of your surfaces safely, and have your home looking like new.
Shine Window Cleaning's Commitment to You
When you choose Shine Window Cleaning in Norman, OK for your window cleaning and house washing, they will treat your home as if it is their own. Their highly-skilled window cleaning professionals take great pride and care in their work and in serving you with honesty and respect. If you are not completely satisfied, they will make it right or give you a full refund.
They understand that everyone's needs and availability are unique, so they offer flexible scheduling and window cleaning packages tailored to you.
Schedule Your Appointment Today
Give your home's exterior the shine it deserves now and into the future, and increase its energy efficiency before the hot summer months hit. As the weather warms, appointments book up quickly, so now is the perfect time to call Shine at 405-479-0100 or get your free estimate today.