Christmas & Holiday Lighting Installation in Lansing, MI
Beat the snow and the stress of the holidays in Lansing with Shine's professional Christmas and holiday light installers.
We all know the holiday season can be stressful at both work and home, so why not leave it to the professionals to light up your home or business this Christmas.
At Shine we have dedicated and trained teams of "elves" to design, plan and install your holiday lights. The best part? When the holidays are over, they return to disassemble and store for the next season.
With professional installers, you choose the theme – bright or soft lights, multi-colored or traditional – and we do the rest. Shine is proud to install at your home or business with professional grade installation kits, including stake lighting for walkways, safety clips for hanging lights and assisted installation for hard to reach places.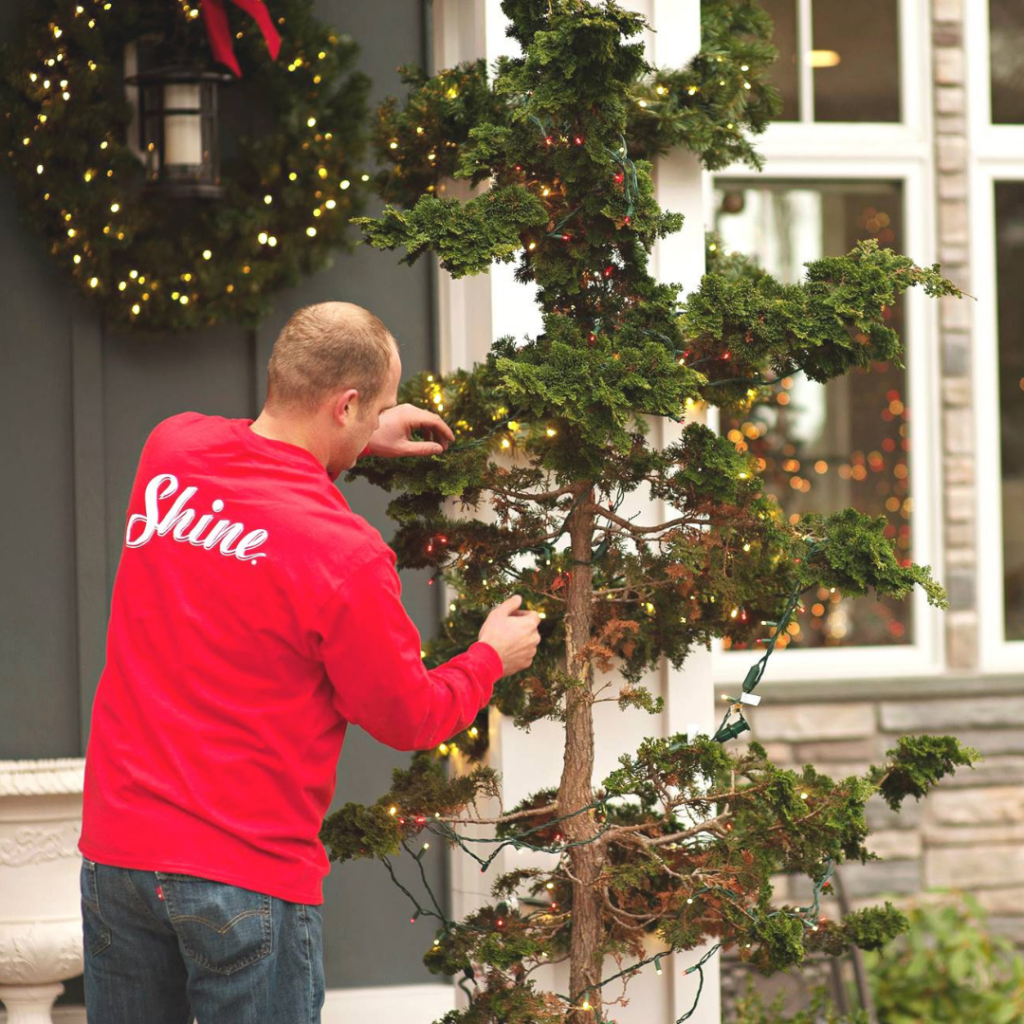 Local Professional Christmas Light Installers Near You
Just like Santa's elves, the team at Shine dedicates countless time and energy to the holiday season. The team in Lansing attends Shine's national holiday light training with over 45 other franchise locations. For us Christmas is the big show – and we light it up right! Our team's work is insured, experienced and excited to decorate Lansing. 
Customers in Lansing get the professional service, high quality products and national backing of the Shine brand, with the care and knowledge of local owners who enjoy working with our customers year after year.
Our elves are already hard at work – and appointments for Christmas lighting installation books up fast! Secure your spot now! 
More Than Just Holiday Lighting Installation
It's not just holiday lights that we specialize in, but installation of wreaths and garland to put the finishing touch on your holiday home. 
Our team works with each homeowner to understand their vision, decor ideas and more. Then we make it happen! If you can't commit to just one idea, let's talk about it and help you choose what holiday lighting is the best for you – and your budget. Your neighbors will wonder how you made it all happen!
Commercial Christmas Light Installation
As a business owner, the last thing on your mind is decorating for the holidays. With year-end finances, employee holiday parties and lots happening at home – let us take one thing off your holiday to-do list. Show your employees and customers how much you care by decking out your business for the season.
Our safety-backed guarantee will take care of all the details, plus we handle everything from installation to storage at the end of the holiday season. 
Professional Cleaning Services
Shine of Lansing offers top-tier cleaning services in your areas. Our fully trained team can help you with professional window cleaning, pressure washing, and gutter cleaning. Check out our main website to learn more.  
Contact us today, (517) 316-1895 or request your estimate today.
Contact Us
4245 Okemos Road
Okemos, Michigan 48864
Special Event Lighting Installation
While Christmas light installation is a big part of our business, our lighting products are ideal for special events any time of the year. From wedding venues, businesses or being that standout seasonal home, we can provide professional lighting for other occasions too.
We work with many different cities and municipalities to help light and decorate buildings and trees for special occasions too.
Halloween Lighting

Outdoor Patio & Bistro Lighting

Valentine's Day Lighting

St. Patrick's Day Lighting
Work with Lansing's Best Christmas Light Installers. Book Now