Eating great food, experiencing the arts, visiting the capitol, or chanting "Go Green", is what makes the city of Lansing a great place to live in and explore. Home to Michigan's historic State Capitol Building, our city draws in a significant amount of visitors from across the country, bringing life and vibrancy to downtown. Shine of Lansing is glad to add to this vibrancy by making Michigan's Capital City shine brightly with specialized exterior cleaning services and professional window cleaning.
Let's face it, keeping your windows sparkling in Lansing is a full-time job. However, at Shine, we're glad to do it for you! As it helps us fulfill our vision to create a brighter world. Shine of Lansing provides window cleaning services to commercial buildings & residential homes in L-town and nearby areas with a 100% satisfaction guarantee.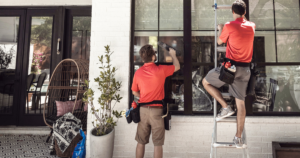 Our team is more than just window cleaners, we're also a crew of gutter-cleaning specialists, pressure-washing pros, and Christmas lighting experts. Whatever weather the Michigan seasons throw your way, our team is ready to make your home shine again!
Schedule a free estimate by contacting us today!
Services We Provide
Our team is ready to tackle your commercial or residential cleaning project. Keep reading to learn more about our specialized services.

Lansing Professional Window Cleaning Services That Brighten Up Homes & Businesses
Michigan's ever-changing weather patterns can stain and dull the appearance of your windows. Professional window cleaning in Lansing not only restores the appearance of your home or commercial building, but it also prolongs the lifespan of your windows by removing harmful buildup. Shine washes away the dirt & grime on your windows using our own ShineBright Crystal Water technology that ensures a streak & spot-free finish. Contact our expert window cleaners today!

Professional Gutter Cleaning Services For Neighborhoods In The Greater Lansing Area
We often think of gutter cleaning as a chore for the Autumn season, when the leaves have fallen from the trees. However, gutters can become clogged by natural debris during any season of the year – with ice in the winter, muck & sludge in the Spring, etc. Regularly cleaning your gutters prevents buildup & water blockage, saving your home from possible roof & foundational damages. Skip the climb up the ladder and let Shine do the dirty work for you with our professional gutter cleaning services!

Give Your Lansing Home Or Building A Refresh With Shine's Pressure Washing & Power Washing Services
Here on the East Side, we experience every kind of weather, and the exterior of your home endures it all. Allow our team of pressure washing pros to give your home's concrete surfaces, roofing, and siding a refresh! Washing away dirt, moss, and tough stains prolongs the lifespan of your home's exterior surfaces. Our professionals know how to clean & restore the curb appeal of your home properly, and are trained in the techniques of pressure washing, power washing, & soft washing.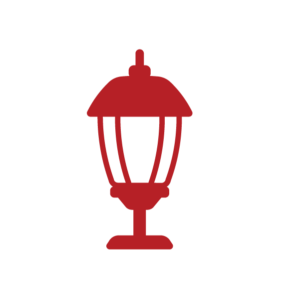 Making Michigan's Capital City Shine Bright With Residential Landscape Lighting For Lansing Neighborhoods
Whether you want to create an ambient patio space, illuminate your garden, or enhance the overall security of your property, our Shine lighting experts have the skills and expertise to make your outdoor lighting vision come to life. We start by creating the perfect, customized lighting design, then we hand it off to our team of lighting installation experts for initial installation & ongoing maintenance. Let's make your home shine bright together!

Spreading Holiday Cheer To Homes And Businesses With Professional Christmas Lighting Installation Services
The Holiday season lives up to its reputation of being the busiest time of the year. We know you would much rather spend your weekend enjoying the festivities in downtown Lansing than putting up your outdoor Christmas lights – so go! Let our Shine Holiday lighting experts design and install your Holiday lights while you're away, and come home to enjoy a bright & festive display. Contact us today to book your spot!
What Our Shine of Lansing Customers Are Saying:
"Excellent job on our windows! The tracks and screens are so clean! The guys were most friendly, very professional, and efficient. In and out with a job very well done! I will have them back again in the fall for sure. Thanks SHINE!!"

-Teresa (Shine of Lansing Customer) 
SCHEDULE YOUR FREE ESTIMATE
Call us today at 517–316–1895 or use our estimate form here.