Christmas & Holiday Lighting Installation in Fenton, MI
In Fenton, we never know when the snow is going to make its first appearance. That's why it's important to prepare for getting your holiday and Christmas lighting installed early—and professionally. No more getting up on a ladder in the middle of winter trying to reattach your lights; call in the team at Shine of Fenton!
There is nothing more beautiful than a neighborhood full of beautiful holiday lights. Be "that house" and set a great impression with a professional Christmas light installation from Shine.
Busy people deserve beautiful lighting designs, too! That's why Shine of Fenton offers both holiday lighting design and installation, so you don't have to worry about anything. 
Better yet, we'll come back after the holiday season is over, and take down your lighting and decor and store it for the next season. 
We offer a beautiful variety of lighting choices, such as:
Candy cane, cool white or warm white with red lights
Multi color lights
Red & green lights
Icicle lights
Timeless warm white bulbs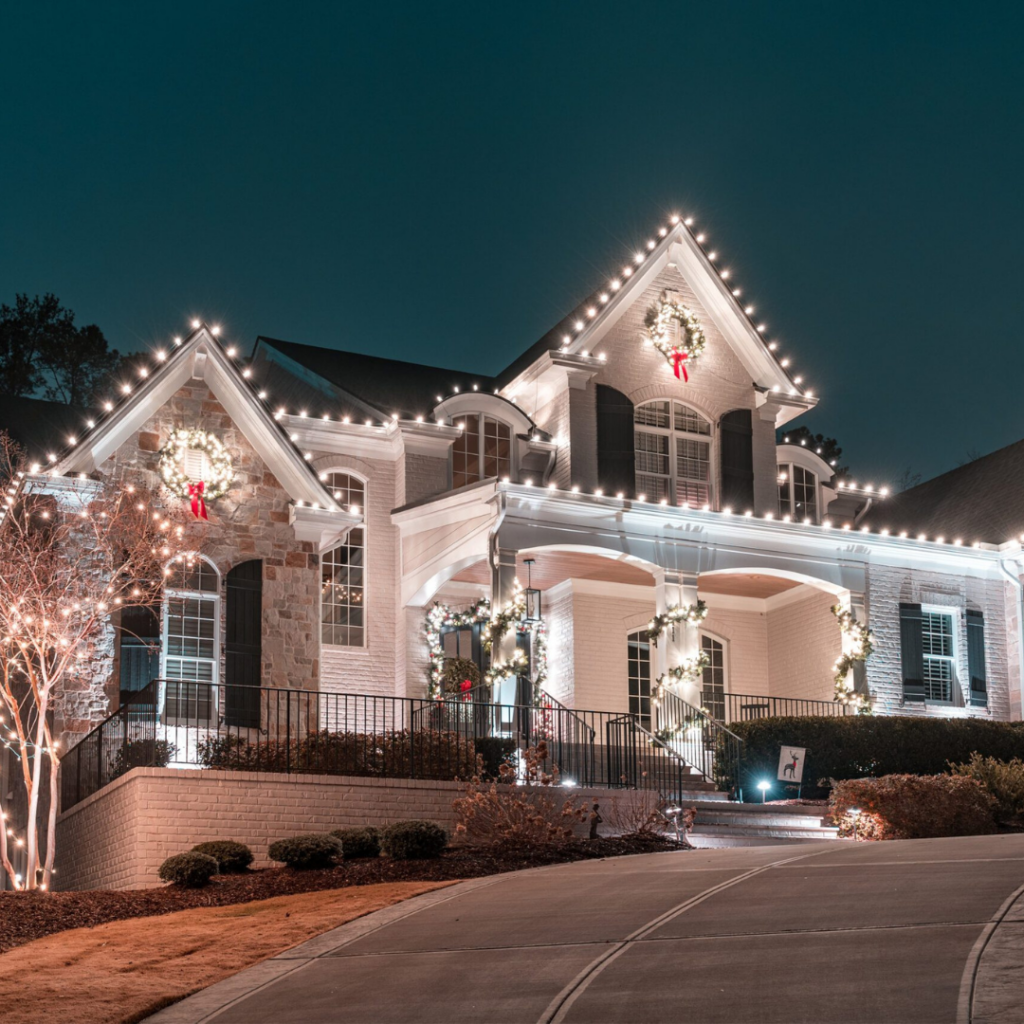 We like to take care of our customers—that's why the lighting we install is always attached with special clips that won't damage or leave residue on your home. Additionally, stake lighting is used along walkways to keep your pathways lit and clear. 
We can also alternate your trees or shrubs with red and green lights, wrap pillars in garland, and hang wreaths on your home. Now that's some real Christmas magic!
Local Professional Christmas Light Installers Near You
 
As locals to the Fenton area, we understand the fluctuating weather. To accommodate for that, we work extra hard on your lighting. Each year, we attend our national holiday lighting training with 40+ other franchise locations. Our insured lighting installers have years of experience—we're safer than Betty Lou Who and provide more beautiful lighting than even Martha May Whovier!
Local customers in Fenton can expect professional service, high quality products and national backing with local owners who enjoy working with our customers year-after-year. 
Christmas lighting installation appointments fill up fast! Book yours now so that you don't miss out on the Christmas magic!
More Than Just Holiday Lighting Installation
Your vision may include more than just lights on your house. That's why we work directly with homeowners to design and plan their holiday lighting and decor installation. We provide everything, from wreath and garland installation to decorating shrubs and trees, in addition to hanging lights on your home. 
Nobody likes boxes upon boxes of holiday lights sitting in their basement or garage. At the end of the season, we come back to your house and take it all down and pack it away safely until next season! 
Commercial Christmas Light Installation
Did you know that Shine of Fenton also decorates businesses and commercial buildings inside and out? 
Help get your customers and employees in the holiday spirit with professional design and installation for Christmas and holiday decorations.
Contact us today (810) 215-8050 or request your estimate today!
Contact Us
2084 W Thompson Road, Suite 400
Fenton, Michigan 48430
Special Event Lighting Installation
While Christmas light installation is a big part of our business, our lighting products are ideal for special events at any time of the year. From wedding venues, businesses, or being that standout seasonal home, Shine of Fenton provides professional lighting for many occasions.
We work with many different cities and municipalities to help light and decorate buildings and trees for special occasions too.
Halloween Lighting

Outdoor Patio & Bistro Lighting

Valentine's Day Lighting

St. Patrick's Day Lighting
Work with Fenton's Best Christmas Light Installers. Book Now