What is the Shine Quarterly Program?
It is simple really… Shine offers a Quarterly Window cleaning program! This 'set-it-and-forget it' plan is for customers who want clean windows and brighter homes all year! No gimmicks here… Our Shine crews will be on time, and professional and work ridiculously hard to clean your windows every visit!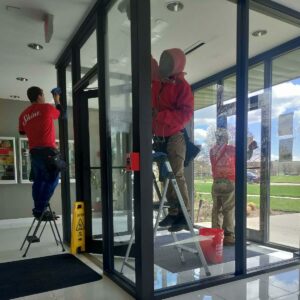 What does the Quarterly mean?
The typical quarterly customer will have their exterior windows cleaned 4 times (every 90 days) and their interior windows cleaned 2 times a year via 4 total Shine appointments! We're happy to modify it to fit your needs…
Why would I 'sign up' for the Shine Quarterly Program?

Set-it-and-Forget-it Scheduling!

Quarterly cleanings are scheduled for the last two weeks of the four months you choose!

Properly Maintain Your Windows!

Periodic cleaning is essential to maximizing the functionality and useful life of windows. Proper care will mitigate the likelihood of hard water and salt spray damage. Hear it from us, there is a hefty cost and inconvenience of window replacement.
Can I add additional services? Absolutely! Many customers will use Shine for pressure washing, holiday lighting, and roof & gutter cleaning… We can add in these services at any time, just ask our crew leader or call the office! 
Great for Homes and Businesses!
Now available in Nassau and Suffolk Counties!
---
Shine Quarterly Background – In 2019, without us asking, we heard from so many customers that they were interested in a regularly scheduled window cleaning program. Our customers kept telling us they wanted a regularly scheduled service similar to their lawn, pool cleaner, or pest control provider. They had grown interested in window washing as a service but did not want the inconvenience of booking or trying to plan it perfectly. So we created a formalized annual window cleaning plan! 
From here, welcome, sit back and relax and enjoy the Shine Show!!!
Call us: (596) 255-4343             
Visit Us: www.shineinfo.com          
Email Us: donf@shineinfo.com
Shine of Long Island