Welcome to Shine of Peoria, where we're committed to elevating the aesthetics and functionality of your home or business. With a focus on services such as professional window cleaning, pressure washing, gutter cleaning, and holiday lighting, we offer comprehensive solutions that meet your unique needs.
Serving the heart of Illinois, Shine of Peoria extends our top-tier services to neighborhoods such as Dunlap, Morton, Pekin, and beyond. Enliven your holiday celebrations with our customized holiday lighting installations or refresh your home and business with our expert pressure washing services. Get in touch to make your vision a reality!
Meet The Owner: Gabe Tongate
Born and raised in the Peoria area, Gabe Tongate brings a lifelong passion for community and project management to Shine of Peoria. With years of experience in corporate roles, Gabe realized the untapped potential for Shine services in Peoria and decided to make his entrepreneurial dream come true. His team is dedicated to the core values of Shine: excellence, serving, safety, and positive energy, all designed to brighten your world!

Don't let dust and smudges diminish the beauty of your Peoria home or business. Our specialized ShineBright Crystal Water technology not only cleans but also potentially prolongs the life of your windows. Prevent mold, enhance energy efficiency, and enjoy a brighter living space. We provide cleaning services for both interior and exterior windows and can also clean your window screens and sills. 
Whether you're looking for a one-time deep clean or regular maintenance, Shine of Peoria has the expertise to make your windows Shine like never before. Request an estimate today to get started.

Renew Your Outdoor Spaces with Professional Pressure Washing
Transform your property's exterior surfaces into something extraordinary. Our pressure-washing services remove dirt, algae, and stubborn stains, making your driveways, patios, and walkways look brand new. Employing both high and low-pressure washing techniques, we customize our approach based on the surface material to avoid any potential damage. 

Safeguard Your Property with Gutter Cleaning Services in Peoria, IL
Say goodbye to the difficult chore of climbing ladders and emptying out your gutters. Let the Shine experts handle gutter cleaning efficiently with our specialized equipment. Ensure smooth water flow and prevent costly repairs down the road. Schedule your free estimate today!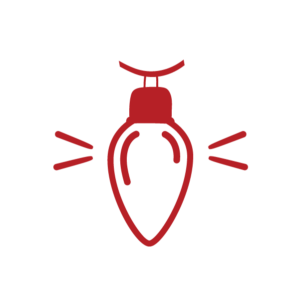 Make your holiday season truly memorable with Shine's holiday lighting services. From design, installation, maintenance, and storage, all your holiday lighting needs are covered. In addition to residential settings, we also offer holiday lighting solutions for commercial properties, ensuring your business shines bright during the festive season. We use high-quality, energy-efficient LED lights that are customizable to your preferred colors and patterns. Plus, our team will work closely with you to create a design that complements your property and brings your holiday vision to life.  Trust us to brighten up your Peoria home in style!

Preserve Your Solar Panels with Specialized Washing Services
Combat mold and mildew while safeguarding your home value. Our trained professionals use precise washing techniques to maintain and extend the lifespan of your solar panels!
Schedule Your Free Estimate
To experience the Shine difference, call us at (309) 680-5404 or fill out our estimate form.