Christmas lighting specialists of peoria, illinois
You've heard the saying, "Home is where the heart is." Well, in Peoria, home is also where the brightest, most dazzling Christmas lights are. We get it—Peoria is special, and we at Shine are on a mission to make your holiday season unforgettable! With our experience lighting up Peoria neighborhoods like Glen Oak and Grandview, we'll help make your home a festive beacon this winter season.
Just like our vibrant city, our holiday lighting packages are a mix of classic charm and cutting-edge cool. Our well-trained and insured team at Shine of Peoria plans, designs, and sets up fabulous holiday scenes using commercial grade materials built to withstand Illinois winters.
Kick back with a cup of hot cocoa and your favorite holiday film; we've got the decorating handled!
Expert Holiday Light Installation Paired with Local Experience
Peoria locals like owner Gabe Tongate understand the importance of community spirit, especially during the holidays. By offering top-notch products and unparalleled customer care, Shine of Peoria aims to bring joy and light to your winter celebrations. Our services encompass designing, installing, maintaining, and storing your holiday adornments so you can focus on making memories with loved ones.
Our Peoria-based team receives rigorous training to ensure your holiday lighting installation is seamless and safe. With our understanding of local architectural nuances and the changing Illinois winter weather, we keep abreast of industry trends to give you a holiday display that's both traditional and trendy, showcasing the best of the Heart of Illinois.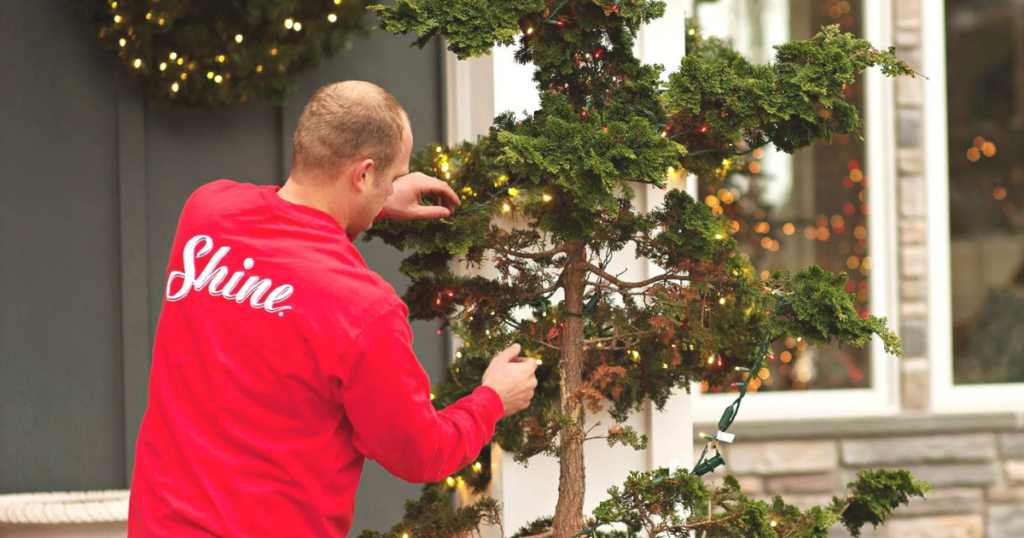 Why Choose Shine of Peoria?
A Spectrum of Holiday Lighting Options
Commercial Holiday Lighting Installation
Transform your Peoria commercial space into a festive attraction that will draw customers throughout the holiday season. With Shine of Peoria, your business along the Riverfront or in the Warehouse District can stand out with style and grace.
Special Occasion and Event Lighting
If you have a special event that requires an atmosphere of elegance and celebration, Shine of Peoria offers custom lighting solutions for events beyond the holiday season, perfect for venues across Central Illinois.
Slots for our holiday lighting services are limited. Contact us early to ensure that your property dazzles all season long!