Fort Myers is one of the fastest-growing cities in the country. This warm, culturally-diverse city is a fantastic place to live based on residents' happiness and the perks of the city, like beaches, attractions, restaurants, and shops, and of course, the year-round sunshine!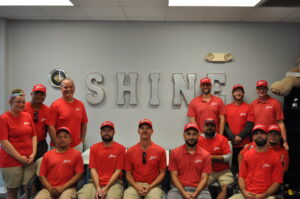 Year-round heat is one of the many reasons we love serving Fort Myers. However, with this climate comes unwanted dust, debris, and bug remnants to both home and commercial properties. 
At Shine, our professionals are prepared to tackle all these issues and more. Whether you're enjoying retirement or busy with family or business, leave the work to the professionals. There's nothing greater than the gift of time – and beautiful windows.

Freshen Up Your Home With Pressure Washing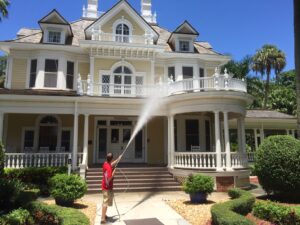 The high temperatures and humidity in Florida create moisture in the air. This can lead to a buildup of mold and mildew. Pressure washing gets rid of these issues, along with others like dirt and tough stains that can leave your patios, walkways, and driveway looking tired or run down. 
Our advanced pressure washing technology can even increase the safety of your surfaces by eliminating slippery spots. Our professionals have the right equipment and detergents to clean your driveway quickly and efficiently.

Professional Window Cleaning in Fort Myers, FL
Condensation from heat, bugs, dust, and other debris and more is very common in the heat of Florida. We provide top-tier exterior and interior window cleaning for residential and commercial properties. Our professionals have the tools and skills to transform the quality of your windows, screens, and window tracks, making them as good as new. 
Our ShineBright Crystal Water technology works to extend the life and operation of your windows, prevent mold growth, increase the energy efficiency of your home or workplace, and let in sunlight to make your home Shine!

Restore the Function of Your Gutters with Shine's Gutter Cleaning
Florida conditions have the potential to wreak havoc on your gutters. Factors like heavy rain and debris from trees can cause clogged or sagging gutters. This can cause water damage on both the interior and exterior of your home or business.
That's why you need a gutter cleaning service you can trust! Your local Shine professional team uses specialized equipment and materials to effectively and efficiently clean your gutters, extending their life and restoring the beauty of your house or commercial building.

Brilliant Holiday Light and Decor Services
Just because you can still jump in the pool or lay on the beach in December, doesn't mean you can't celebrate a traditional Christmas in Fort Myers with the help of our Shine holiday lighting crew! Whether you're looking to celebrate the season with your family and friends or show your employees and customers that you're in the holiday spirit, Shine offers a one-stop shop for everything holiday decorations.
Our trained teams are ready to get your home or business ready for the holidays. Not only does our Fort Myers team have everything you need, but they cover design, plan, set-up, and tear-down. Plus, they pack it all up for storage until the next holiday season! On top of gorgeous lighting, we also provide stake lighting for walkways, garlands, holiday string lights for pillars and porches, wreath hanging, and more.
Interested? Call our outdoor lighting department at 239-313-7846.

Schedule your free estimate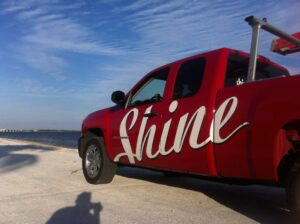 For more information or to schedule our team for a service, call us today at 239-275-3037 or use our estimate form.
Call our outdoor lighting department at 239-313-7846.