Premier holiday lighting installation in fort myers – naples, fl
Just because you can still jump into the pool or sit by the beach even in December doesn't mean you can't celebrate a traditional Christmas in Ft. Myers. With the help of the magical elves of Shine, Christmas (Florida style) is just a phone call away!
Whether you're looking to celebrate the season with your family and grandkids or show your employees and customers that you're in the holiday spirit, the team at Shine offers a one-stop-shop for everything Christmas and holiday decoration.
Our insured and trained teams are ready to create a winter wonderland. Whether you're looking for traditional Christmas colors or something inventive and modern, we have both the design and plan. Not only does our Ft. Myers team have everything you need, but they design, plan, set-up, and tear-down. Plus, they pack it all up for storage until next year. Not even Santa's elves offer that much service!
In Ft. Myers, we can transform your palm trees into Christmas trees! Let us wrap your home or business in festive lights that shine against the night sky. We'll make sure your tropical oasis dazzles this holiday season.
Pick green, red, warm lights, icicles, or all of it! In addition to installation, we operate with safety in mind for both your visitors and home. Each install comes complete with safety clips, stake lighting at walkways, and more.
Local professional christmas light installers in florida
Santa isn't the only one with an extensive resume of work during the holidays—the team at Shine in Fort Myers comes with both experience and knowledge!
Locally owned and operated, our Fort Myers locations are backed by the entire Shine corporation, with over 45 locations across the country. Additionally, our Fort Myers location attends the Shine national holiday lighting training each year. That way, we can guarantee that each service team is insured and ready to make your Florida Christmas dreams come true.
Local customers in Fort Myers receive professional service, high quality products, and national backing from local owners who enjoy working with our customers year-after-year.
With Fort Myers' warm weather and palm trees, Christmas looks a little different here. But our team knows how to create displays that capture the festive spirit with a tropical flair. From synchronized music shows to lighting up palms like Christmas trees, we have the expertise to design one-of-a-kind displays.
Christmas in Fort Myers is popular, and the Shine Christmas lighting installation appointments fill up fast. Book yours now!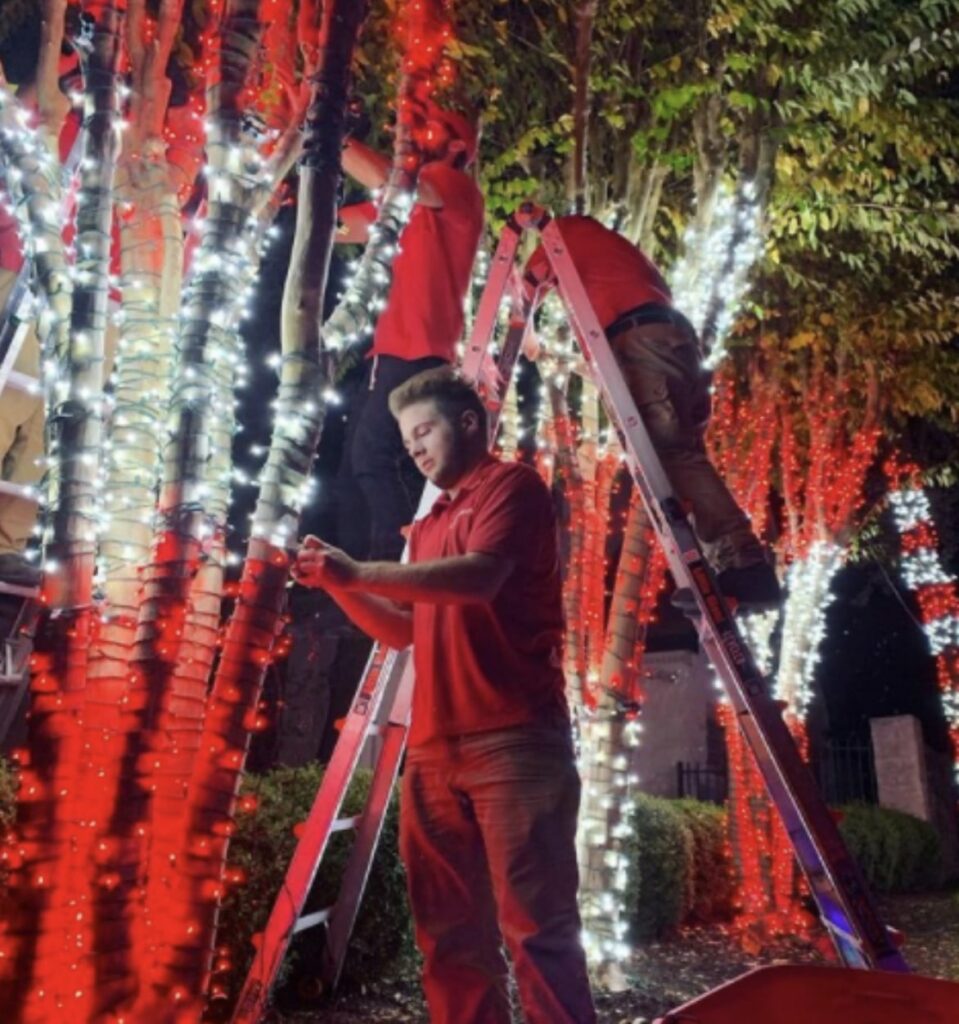 Shining Results in Florida
More than just holiday lighting installation

Commercial Christmas Light Installation
As a business owner, there's plenty of work to be done, such as end-of-the-year finances, holiday parties and more. Let us deck out your office or storefront with the best Shine has to offer. Show your employees and customers you're in the holiday spirit! Just like for homes, we do it all—plan, design, set-up and tear down, until next year!
Let us highlight the charm of historic downtown Fort Myers and Palm Beach Boulevard by decorating your storefront! Festive lights and greenery will draw more foot traffic during the holiday shopping season. Special Event Lighting Installation
Christmas lighting may be a big part of our business, but we don't just need the holidays for a reason to decorate! In Fort Myers, we can provide festive lighting for any occasion. Our team will meet with you to understand your vision and design a beautiful, customized lighting display. We'll transform any Fort Myers venue into a warm and sparkling space, perfect for celebrating. 
We work with many different cities and municipalities to help light and decorate buildings and trees for special occasions, too.
Halloween Lighting
Outdoor Patio & Bistro Lighting
Valentine's Day Lighting
St. Patrick's Day Lighting
Work with Fort Myers Premier Christmas Light Installers. Book Now!