Professional Residential Window Cleaning Services in Littleton, CO
Just a short distance south of the bustling city of Denver, Littleton features turn-of-the-century buildings and antique shops to cozy, relaxed restaurants and bars.
Let Shine of Littleton help you by doing what we do best—making your windows sparkle with a 100% satisfaction guarantee! Our friendly team has the experience to brighten up your residential or commercial property year-round with professional window cleaning.
Whether you're a homeowner, landlord, or commercial building owner, the professionals at Shine are ready to make your outdoor spaces look and feel amazing! Get your free estimate now and see the difference Shine can make to the appearance of your location!
From harsh winters to warm summers, the weather can really take a toll on your windows, leaving them dirty, streaky, and in need of a good cleaning. Regular exterior and interior window cleaning not only improves the appearance of your home or commercial building, but also helps protect your windows from damage and prolongs their lifespan.
Not only do we offer exterior window cleaning, we also offer interior window cleaning. Your home will be left gleaming with sunshine while eliminating dust, grime, and potential allergens from building up on the surface of your windows. We even offer interior window cleaning on a weekly and monthly basis with our Shine On Subscription.
Our unique ShineBright Crystal Water technology is formulated to increase the lifetime of your windows by preventing mold growth, increasing energy efficiency, and more. This top-of-the-line environmentally friendly solution will leave your windows residue and steak free. No need to worry about rain in the forecast, your windows will stay cleaner longer with our process. All services are covered by the Shine Guarantee.
Simply select the frequency you want, and get ready to SHINE ON: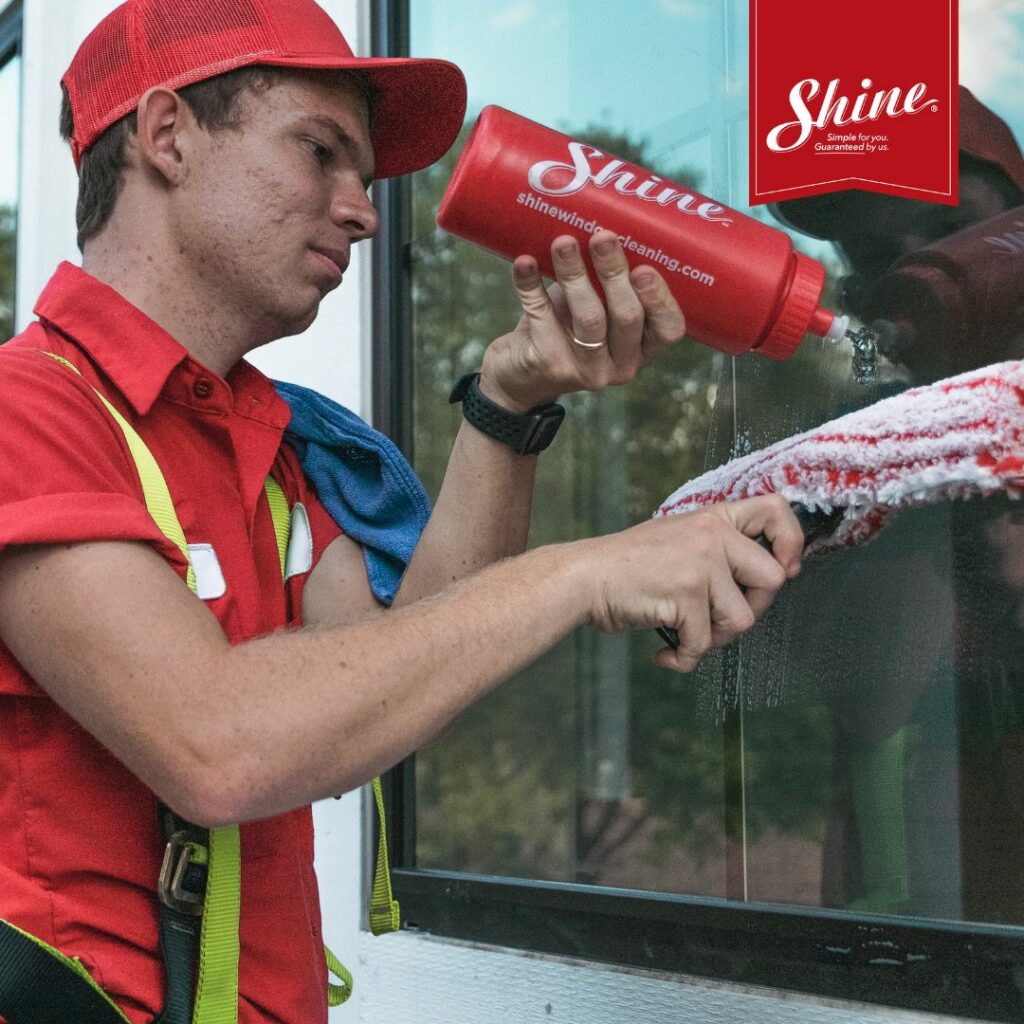 THE BENEFITS OF PROFESSIONAL WINDOW CLEANING WITH SHINE
Experience the difference that professional window cleaning can make for your home or office space. Call us today at (720) 725-6497 or use our estimate form.