You Deserve to Refresh Your Home in the New Year with Interior Window Cleaning.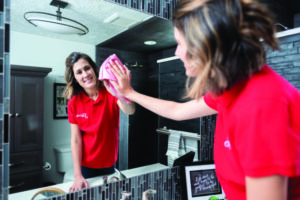 Whether you believe in New Year's resolutions or not, the start of a new year is always a great time to clean and refresh your space. The hustle and bustle of the holiday season often result in increased traffic in your home. When the parties are over, and the decorations come down, it can start to feel a little dull.
As you refresh your home for the spring months ahead, you may realize it's time for an interior window cleaning to remove some of those little kids' fingerprints, pet nose prints, or someone to help clean the chandelier you haven't touched in ages. 
It is time for that interior window and glass cleaning!
Interior Window Cleaning to Make Your Home Shine
No one likes washing windows. Except for us, of course. That's what we do. We find windows are not often cleaned properly. But once they are, people enjoy it so much! Windows can quickly gather build-up, dust, and grime when left unattended. If it's been some time since you've really deep-cleaned them, it's going to take some serious elbow grease to let all the beautiful sunlight in again.
Our team's professional cleaning methods can have your windows, and your view, sparkling again in no time. We're pros at removing dust, fingerprints, dog nose swipes, hidden grime, and water stains. Call the location closest to you to learn more. 
Removing Dust Reduces Allergens in Your Home
It's okay; we know that your ceiling fans, light fixtures, and chandeliers haven't been touched in longer than any of us would like to admit. They're usually one of those last areas to clean when you get around to it. Have you considered getting up on a ladder to clean those high places? Why that sounds like a hassle, plus it can be challenging, especially when most people would rather keep their feet firmly on the ground.
If you've looked up at your fans, entryways, or chandeliers, you know dust loves to hide up there! Regularly maintaining these spaces reduces dust accumulation in your home, which can exacerbate allergens that may cause problems for your family.
Luckily, our team practically lives on the ladder. We can safely navigate the hard-to-reach spaces in your home to remove dust and make your light fixtures sparkle again!
Imagine, Crystal Clear Glass and Shower Doors
When was the last time you had your mirrors or shower doors cleaned, without streaks? As you know, it takes a while to learn how to leave large glass pieces with a streak-free finish. It also requires the right cleaning solutions and tools — just ask our team! As professional glass and window cleaners, we have all of the tools and skills necessary to leave even the largest mirrors with a spot-free finish that will Shine throughout your home. And yes, rest assured that we will also take care of your glass shower doors! 
Make Your Home Shine Again
When you bring Shine into your home to handle your window and interior glass cleaning, you'll quickly see it radiate inside and out! You deserve to have a crystal clear view and clean windows are the first step. Find the Shine Window Cleaning location closest to you and request an estimate or schedule your cleaning. 
Don't forget to check out the rest of our services to see how we can make the outside of your home Shine just as brightly!