Getting into the Holiday Spirit: Christmas Light Installation Costs and Services
It's that time of year again – the streets come alive with twinkling lights, and homes turn into cozy wonderlands of festivity. But let's be real, getting those Christmas lights up and shining isn't always a walk in the park. That's where the magic of Shine's professional Christmas Light Installation services comes in. We handle the hard work, turning your home into a holiday masterpiece without the hassle. So, let's dive into the world of Christmas light costs and services, and discover how our experts at Shine can make your home or business the talk of the town!
The Delight of Christmas Lights
Who doesn't feel all warm and fuzzy at the sight of Christmas lights? They have this amazing ability to whisk us away into a world of nostalgia and joy. The soft glow of white lights or the burst of colors – each house and business tells a unique story of the season. And as the festive vibes start knocking on our doors, we start dreaming about creating our own holiday spectacle.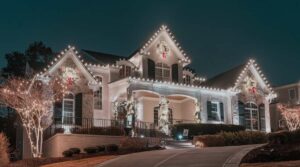 The Not-So-Fun Part: Installation
But here's the thing – hanging up those lights can be a real struggle. Think about the tangles, the ladder acrobatics, and dealing with those stubborn bulbs that just won't light up. Best case – you don't get injured. And let's not forget the chilly weather that somehow manages to find its way into your holiday spirit. DIY is fun, but let's be honest, it's not always as charming as those perfectly lit houses on Instagram.
Christmas Light Pros to the Rescue
Cue the Shine professionals! Our Christmas light installation services are like Santa's little helpers, making sure your house Shines without you breaking a sweat. Here's a sneak peek into what we bring to the table:
Dreamy Designs: Our professionals discuss with you, understand your vision, and then weave their Christmas magic to bring it to life. Whether you're all about classic elegance or quirky creativity, we've got you covered.

Top-Notch Stuff: No more fussing over low-quality lights that die out before the season ends. We use high-quality, commercial grade LED lights that'll keep your display dazzling all through the holidays.

Farewell to Frustration: Climbing up ladders and securing lights isn't on your to-do list anymore. Shine lighting experts handle all the nitty-gritty, so you can spend more time sipping hot cocoa.

Oops, They Got It: If something's not right with your lights during the season, don't panic. These services offer cost-free maintenance and quick fixes to keep your home shining its brightest.

After-Party Cleanup: When the holiday magic fades, we'll be there to take down all the lights and decorations, leaving your home as it was before – minus the mess.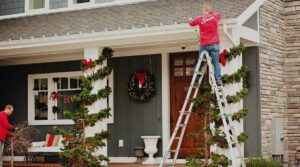 Christmas Light Price Tag
Of course, all this beauty and convenience comes at a cost, and it can vary – but ultimately, you determine the cost:
House Size: The bigger your property, the more lights needed, and the more time it takes – affecting the cost.

Design Complexity: Intricate designs might mean more effort, impacting the final bill.

Extras: Our services offer extra decorations like wreaths or garlands, adding to the total.

Location: Where you live plays a part – prices can vary depending on local rates.
However, there's no cost worth an injury or a damaged house from improper installation. To get a clear picture of the price, just ask for a free quote from your local Shine Christmas Light professionals.
The holiday season is all about cozy vibes, joyful gatherings, and, of course, stunning Christmas lights. While hanging those lights might not be everyone's cup of cocoa, there's no need to miss out on the festive fun. Shine's Christmas light design and installation services are here to save the day (and your back) while making your home or business the neighborhood's holiday gem. So, as you plan your holiday decorations, consider letting the experts handle the lights – turning your home into a twinkling testament to the most wonderful time of the year!
Get your Holiday Lighting Installation Quote today!