The holiday season is quickly approaching! Christmas lights are the ideal way to spread holiday cheer in your area. However, installing Christmas lights on your home can be time-consuming and difficult. Check out this article to discover the safest and most effective way to hang Christmas lights on your home!
Need expert help hanging your Christmas lights? Contact your local Shine today to get a free estimate!
Choose your Lights
There are many different styles, colors, and shapes for Christmas lights. It's important to choose high-quality lighting for your home to ensure safety. Here are some examples of popular lighting options: 
String Lights: The most popular kind of Christmas lights is string lighting. They include the option of several different colors and a candle shape.

LED Christmas Lights: LED Christmas lights are a

long-lasting, low-energy alternative to traditional string lights

. This option can help you save both money and energy.

Icicle Lights: Lights that look like icicles hanging from windows, gutters, and overhangs.

Twinkling Christmas Lights: String lights that flash on and off. These can be a stunning way to complement your conventional holiday lights.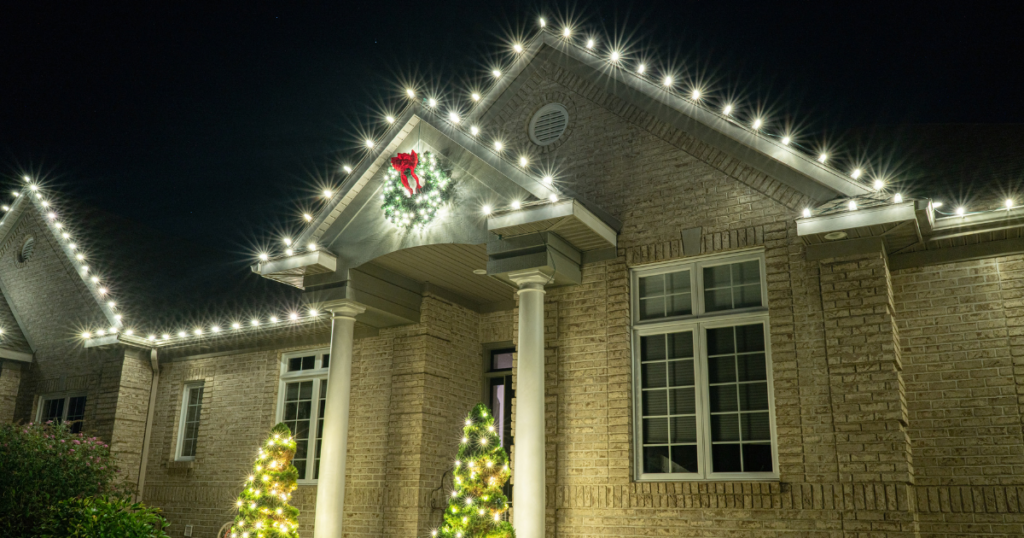 RELATED: The top-notch lighting options from Shine Holiday Lighting are flexible to meet your needs. Learn more today!
Create a Game Plan!
In order to install Christmas lights properly, some important details must be taken into account. Making a detailed game plan before hanging your Christmas lights can ensure that everything goes as planned.
Determine the dimensions of the areas where you want to install your lights. This is critical in figuring out how many lights you'll need.

Take note of the installation surfaces. Are you installing on a roofline, windows, or door frame? Perhaps you are wrapping hedges, trees, and posts? It's important to consider these when choosing installation tools.

Think about the location where you want your lights to go. If you're installing the lights outside,

be sure they are also approved for outdoor use.

Decide on the appropriate Christmas light clips for your home. Some options include

adhesive clips or universal clips

that fit rooflines and gutters. 
In order to quickly and efficiently install your outdoor holiday lights, we recommend hiring a professional Christmas light installation service. Yes, you may attempt to complete this task on your own, but doing so would require hours of hard work to achieve the desired results.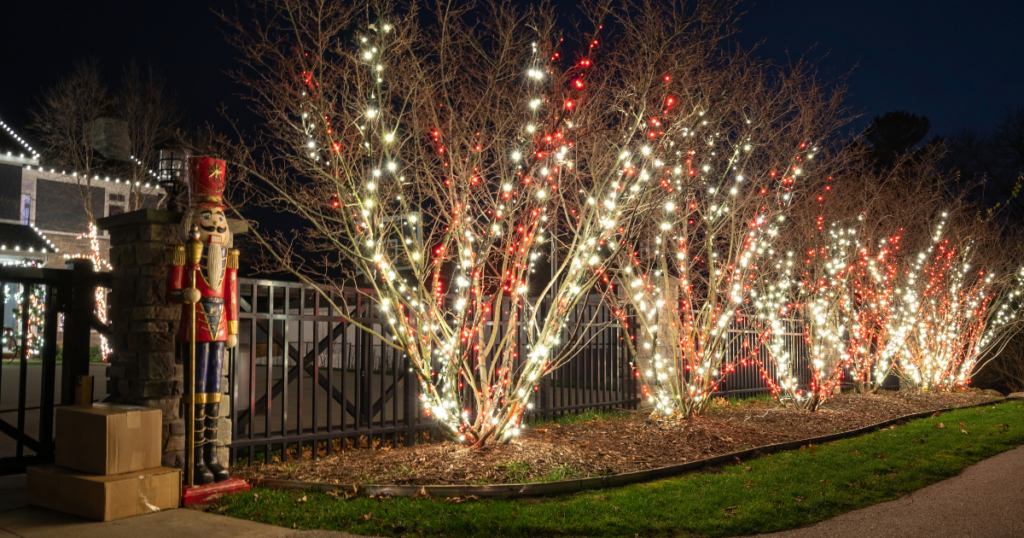 Hang your Outdoor Christmas lights
Now for the hard part! Get a ladder, a spotter, and all of your materials ready. Without supervision, we wouldn't advise you to hang your Christmas lights outside alone. The following actions can be taken to finish the task:
Check the lights. After working so hard to get your lights installed, you don't want to discover that they are blown. 

Place the clips in the gutter or between the roof and shingles, then slide the rooftop lights into position. Keep in mind that the universal clips have the ability to hold small lights, icicle lights, and string lights. 

Start hanging lights after attaching them to clips.

Use adhesive clips on the siding, columns, railing, and windows. 
Seem difficult? Shine has a team of qualified experts in your area that are prepared to assist you with hanging Christmas lights! We can take care of the design, installation, maintenance, and storage off-season. Let our crew handle the hard work so you can spend more time celebrating the holidays with your family!
Need expert help hanging your Christmas lights? Contact your local Shine for a free estimate today!