Premier holiday lighting installation in frisco-plano, tx
Become the envy of the entire Dallas-Ft. Worth area with professional holiday lighting at your home or business. The insured, trained, and talented team at Shine can turn any home into a winter wonderland! Clark Griswold wishes he could have enlisted the team at Shine! 
We all know the holidays are more stressful than fun, but wouldn't you love to be one of those stress free people – even if just once? Unload one of the biggest projects on your "to do" list, the outdoor decorating. Not only is the team at Shine trained in safely hanging lights and wreaths – even at great heights – but they can help you plan and design the perfect look for you. Our experts are familiar with the mild North Texas winters and can help make your home stand out with beautiful, customized designs. No matter if you're looking for the perfect traditional warm light look or thinking of turning Christmas on its head with multi-color, icicles and a combination of it all!
Even better – after the holidays the Frisco-Plano team comes to disassemble, pack-up and store everything for the next holiday season. The best Christmas gift has come early – it's the team of Shine! 
Local professional christmas light installers in texas
Christmas lighting in the Frisco-Plano area can be competitive, we know, we're local! What sets the team at Shine apart from others is our experience and commitment to the community. Our team has been living and working in the Dallas-Ft. Worth area for years. At Shine, we're backed by a corporate team and 40 franchises across the country, but with a locally owned and operated team right here in Frisco-Plano, TX.
Insured, experienced and trained – holiday lighting is what we do! Our corporate partners host a national training each year. We're not just jumping on a ladder, we're learning the newest tips, tricks and trends for Christmas light installation. Then we're bringing them back to the Frisco and Plano area to make sure your home SHINES for the holidays. Don't wait – just like Santa, we're busy this time of year! Book your appointment now for a beautiful Christmas light display!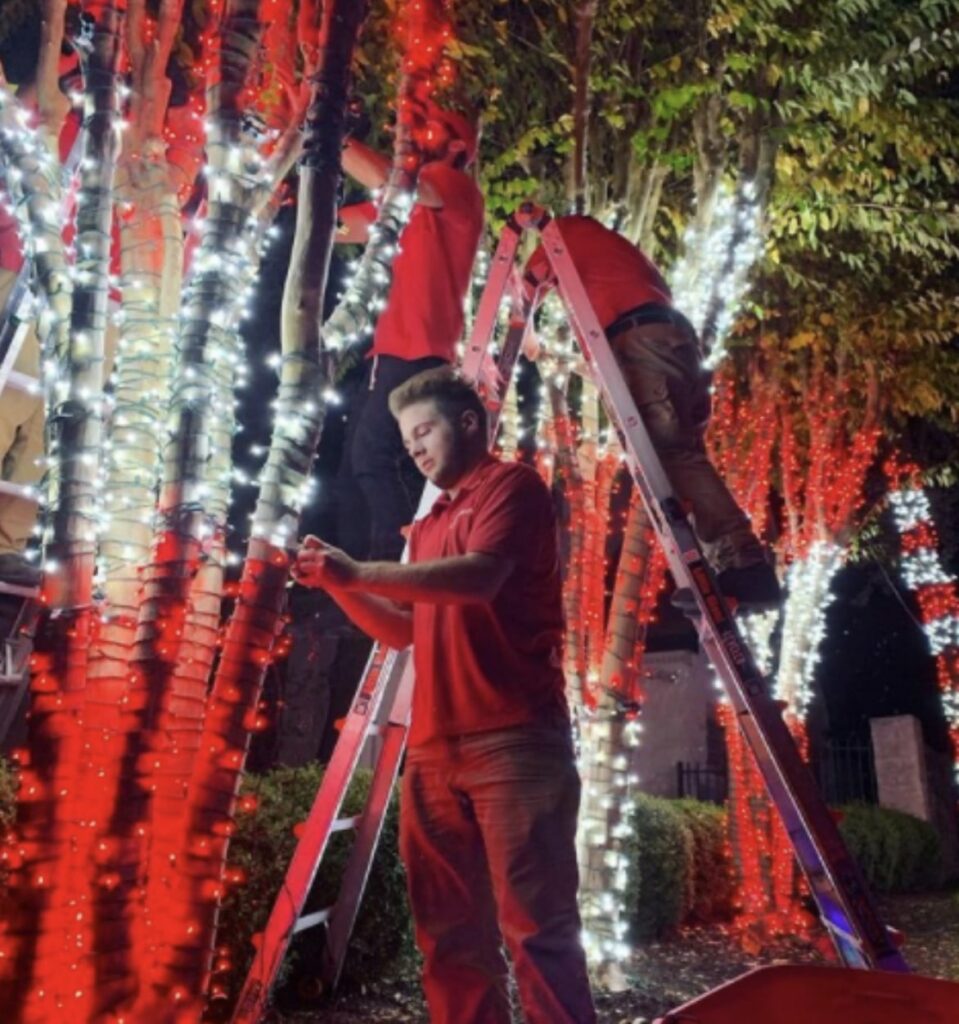 Shining Results in Frisco-Plano, TX
More than just holiday lighting installation

Commercial Christmas Light Installation
Don't give your employees the chance to call you Ebenezer Scrooge, surprise the entire office and your customers with a custom light display! Get into the holiday spirit in Frisco-Plano and increase your holiday customer numbers with a little light and sparkle!
Plus, just like residential customers, we offer full-service planning, design, installation and removal for businesses in Frisco-Plano. Low effort for big holiday cheer! Special Event Lighting Installation
While Christmas light installation is a big part of our business, our lighting products are ideal for special events any time of the year. From wedding venues, businesses or being that standout seasonal home, we can provide professional lighting for other occasions too.
We work with many different cities and municipalities in the North Texas area to help light and decorate buildings and trees for special occasions too.
Halloween Lighting
Outdoor Patio & Bistro Lighting
Valentine's Day Lighting
St. Patrick's Day Lighting
Work with Frisco-Plano's Premier Christmas Light Installers. Book Now!