Christmas & Holiday Lighting Installation in Macomb, MI
When the seasons start to change in Michigan, we get excited to start designing and installing professional Christmas lighting all around Macomb County! No need to go outside in the cold or brave your ladder, Shine will handle all of your holiday lighting needs. Make your home a showstopper this holiday season, decked out with unique displays and lighting all designed, installed, and maintained by Shine of Macomb County!
Our Macomb County Shine team does holiday installation for both residential and commercial properties. It's our goal to make our community to spread joy throughout our town and help our community Shine this holiday season.
Shine of Macomb County helps you enjoy the holiday season by reducing the stress of taking care of your holiday lights! Our team will handle every step of the process, including storage in the off season. Every year, our team goes through extensive training, learning how to design, install, maintain, and store your Christmas lights. When you work Shine, you'll receive an incredible holiday light display that will surely make you the talk of town.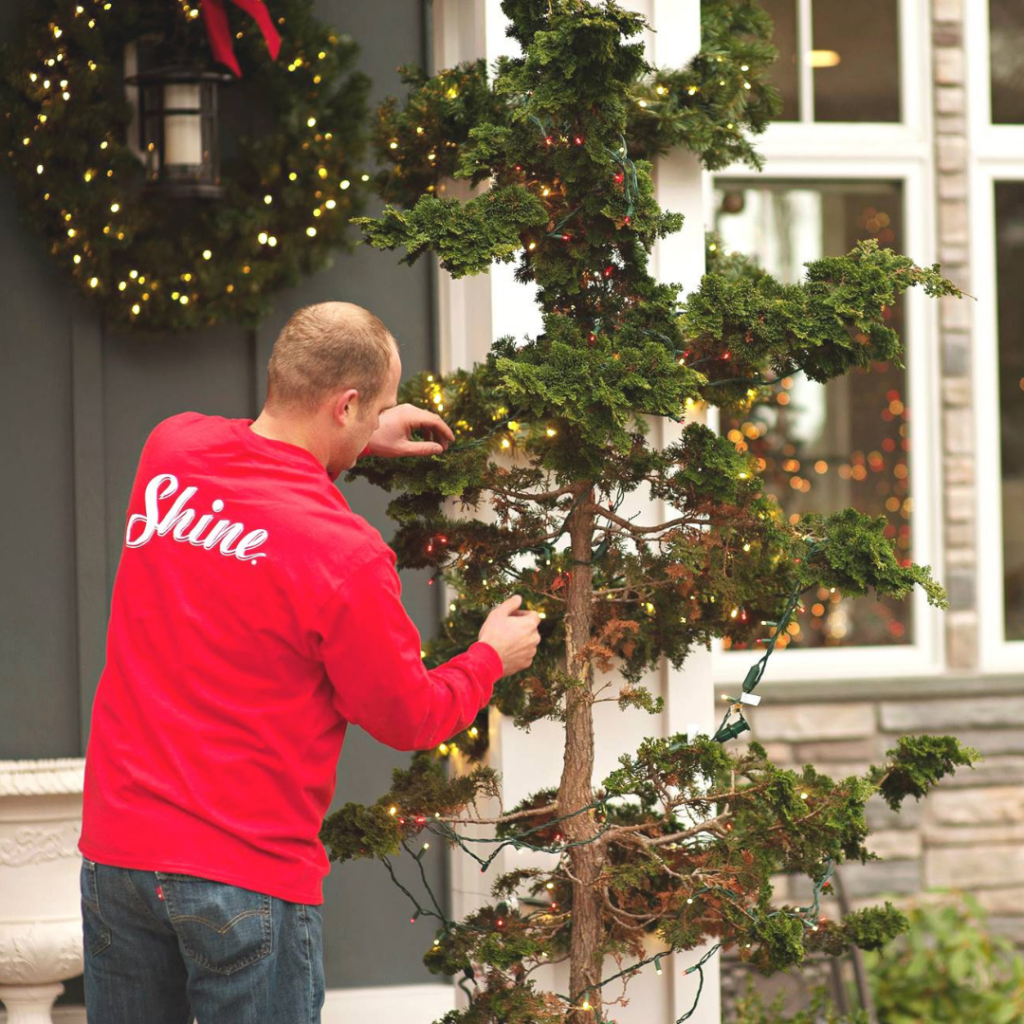 Local Professional Christmas Light Installers Near You
Shine of Macomb County is proud to serve our local community through our professional Christmas lighting services. We make sure to always provide the highest level of customer service, and it shows! That's why so many local businesses and families have been trusting us to install Christmas lighting packages for years.
Our books are filling up quickly, help us spread the holiday cheer in Macomb and book your holiday lighting services today!
More Than Just Holiday Lighting Installation
Shine can take your holiday decorations to a whole nother level. Not only do we handle the lights, but we also will decorate your home or business with wreaths, garland, and more. With so many options to choose from, we're sure we can make your holiday vision come to life!
Commercial Christmas Light Installation
Our team is here to help you with more than just your home! We're also trained to install Christmas lights and holiday displays on your business or storefront. Provide your customers and employees with a warm welcome this holiday season! Add stunning holiday displays all throughout your commercial property. No need to worry about installation or storage, Shine will take care of everything! 
Contact us today 586-580-3580 or request your estimate today
Contact Us
50651 Wing Drive
Shelby Township, MI 48315
Special Event Lighting Installation
While Christmas light installation is a big part of our business, our lighting products are ideal for special events any time of the year. From wedding venues, businesses or being that standout seasonal home, we can provide professional lighting for other occasions too.
We work with many different cities and municipalities to help light and decorate buildings and trees for special occasions too.
Halloween Lighting

Outdoor Patio & Bistro Lighting

Valentine's Day Lighting

St. Patrick's Day Lighting
Work with Macomb County's Best Christmas Light Installers. Book Now