Christmas & Holiday Lighting Installation in Holland, mi
You never know what fall and early winter will bring to those living along the Lake Michigan lakeshore. Installing your Christmas lights early means that you can beat West Michigan's winter weather and enjoy your decorations longer. Better yet, let the folks at Shine of Holland take care of installing your Christmas lights and décor, so you have more time to enjoy the Christmas season!
Christmas lights help make a festive home or business for the holidays. Even better, professionally installed holiday lights and decorations make an impression on your friends, family, and neighbors. You get a superior holiday light installation without spending the stress and time doing it yourself. 
Shine of Holland offers full-service holiday lighting design and installation services. We work with you to design, install, remove, and store your decorations, removing all the pressure of decorating your home and property this Christmas. Explore various holiday lighting colors and design ideas, including:
Candy cane, cool white or warm white with red lights
Multi color lights
Red & green lights
Icicle lights
Timeless warm white bulbs
You can even alternate your trees or shrubs with red or green! Our team installs lighting on the edge of your home or building using special clips that prevent damage and wear marks. We can also provide stake lighting for walkways and driveways, wrap pillars with garland and string lights, and hang wreaths.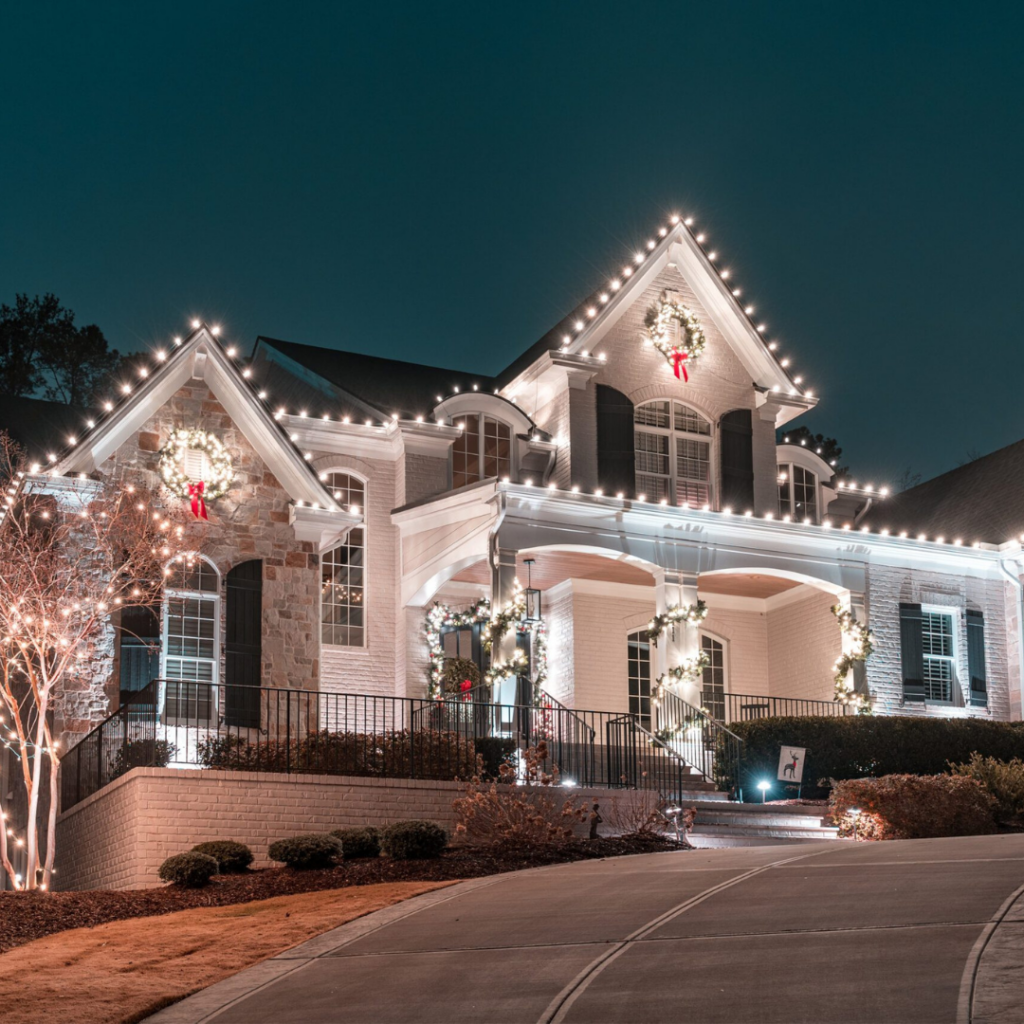 Local Professional Christmas Light Installers Near You
Shine of Holland is locally owned and operated in Zeeland, Michigan. Shine's crews have been installing Christmas lights and holiday décor for hundreds of happy customers for several years. We stay on top of the latest design trends and lighting equipment, and even attend annual training specifically for holiday light installation. Shine of Holland is fully insured, protecting your home and property. 
There's a reason customers come back to us year after year. When you choose Shine of Holland for your holiday lighting installation, you can count on high-quality products, a nationally known company with local owners who take pride in brightening our community for the holiday season or any special occasion.
Christmas light installation appointments are filling quickly! Secure your spot today! 
More Than Just Holiday Lighting Installation
While Christmas lights make everything bright, we also provide wreaths and garland to complete your holiday decorations. We can install lights, wreaths, and garland on homes, buildings, trees, shrubs, pillars, porches, and more.
Shine will work with you to design a holiday decoration plan that fits your home and your vision.
Commercial Christmas Light Installation
Many local businesses trust Shine of Holland to decorate their businesses and commercial buildings for the holiday season. Professionally installed Christmas lights ensure your business looks its best and brings cheer to your employees, customers, and visitors. 
Our commercial Christmas light installation package is perfect for office buildings, retail establishments, restaurants, healthcare facilities, warehouses, industrial buildings, hotels, and more. We'll plan a complete design and holiday light installation for your organization, including removing and storing your lights and décor. 
Contact us today 616-748-1200 or request your estimate today! 
Custom Installation
Work with our design team to create your perfect holiday displays. We'll take care of everything, from the decorations to safe and professional installation using premium products.
Avoid the Stress
Take away the pressure of decorating your home or business this Christmas. Leave the work to us; we'll make your home or business Shine!
Prompt Removal and Storage
When the holidays are over or when you are ready, we take down your holiday décor and make life after Christmas hassle-free. We'll also carefully store your decorations for next year.
We make scheduling easy. Call or request your quote today!
Contact Us
520 Gordon Street, Suite 2
Zeeland, MI 49464
Special Event Lighting Installation
Our lighting installation services extend beyond the holidays. We can design a lighting installation specific to your area and event, from special events to gathering spaces. Our lighting solutions are ideal for weddings, special events, patios and decks, pool areas, and outdoor recreation areas.  
In addition to homes and businesses, we work with cities and municipalities to install lighting solutions throughout the year, including special events and holidays such as:
Halloween lighting
Valentine's Day lighting
St. Patrick's Day lighting
Outdoor space and recreational area lighting
Outdoor patio lighting
Special event lighting
Work with Holland's Best Christmas Light Installers. Book Now