Looking for top-notch holiday lighting services in the Roslyn Area? Your search ends here with Shine Holiday Lighting. We specialize in holiday lighting design, installation, maintenance, removal, and storage. With our professional service, highly trained installers, and comprehensive insurance coverage, we are dedicated to transforming your home or business into a magical wonderland. We are your premier Holiday Lighting Service in Roslyn, Roslyn Heights and Roslyn Harbor.
Shine Holiday Lighting Services: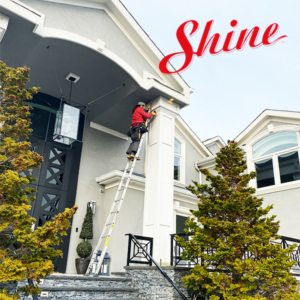 Holiday Lighting Design:

Our team of expert designers will collaborate closely with you to craft a tailor-made lighting plan that captures the true essence of the holiday season in Roslyn . Whether you prefer a timeless and sophisticated display or a vibrant and eye-catching showcase, we will bring your vision to life.

Installation:

Let our skilled installers handle every aspect of your holiday lighting installation. From rooflines and windows to trees and landscapes, we will meticulously execute the design, ensuring that every detail illuminates your property with enchantment.

Maintenance:

Also, we understand that even the best lighting displays may encounter issues like burnt-out bulbs or weather-related damage. That's why we offer comprehensive maintenance services to keep your lights shining brilliantly throughout the season. Sit back and relax as our team takes care of all necessary adjustments and repairs.

Removal and Storage:

Once the holiday season comes to a close, we'll swiftly and efficiently remove all lights and decorations, leaving your property clean and uncluttered. Additionally, we provide secure storage solutions to safeguard your lighting setup until the next holiday season arrives.
Why Choose Shine of Long Island Roslyn, Roslyn Heights, Roslyn Harbor?
Professional Service: At  Shine Holiday Lighting

Roslyn

, we prioritize delivering exceptional customer service. Our team goes above and beyond to surpass your expectations and ensure a stress-free holiday lighting experience.

Highly Trained Installers:

Our installers are experienced professionals who possess extensive expertise in handling various types of holiday lighting installations. With their skill and finesse, they will execute the process seamlessly, leaving you with awe-inspiring results.

Comprehensive Insurance:

Last, but not least, we value your safety and peace of mind. As an insured company, we provide protection against any unforeseen incidents that may occur during the holiday lighting process.
Lastly, let's transform your Roslyn, Roslyn Heights, or Roslyn Harbor home or business into a captivating holiday destination with the assistance of Shine Holiday Lighting.
 Contact us today to schedule a consultation and let us create a breathtaking display that radiates the joy of the holiday season in Roslyn.
Call Shine Today at 516-678-8191
Click HERE to Visit our Website