Premier Window Cleaning Services in Manhasset, Nassau County
Manhasset is considered one of the best places to live on Long Island. Sitting just 20 miles from New York City,  and getting its name from the Native American term for "island neighborhood", the town has a bustling center filled with beautiful shops and many wonderful dining options.
At Shine of Long Island, we understand the importance of keeping your home looking its best. That's why we offer a wide range of window cleaning and lighting services in Manhasset to meet all your needs. From interior and exterior window cleaning to soft roof cleaning, from holiday lighting to permanent landscape lighting with color-changing options, Shine has you covered.
Exterior Window Washing in Manhasset, Nassau County
Living in Manhasset means that your windows can be exposed to salt spray, moisture from fog, and road dust from traffic. But don't worry, Shine is here to help. Our technicians use Shinebrite Crystal Water, which has been put through a unique purifying process, to clean all the dirt, dust, grime, and water spots off your exterior windows. This technology also allows us to clean up to three-story homes and businesses from the ground, making our cleaning highly efficient.
Expert Window Screen and Track Cleaning in Manhasset, Nassau County
Your screens can trap a lot of dust, dirt, and particles that are floating around in the air. At Shine, we suggest also having your screens and tracks cleaned along with your windows. We will remove the screens, clean and dry them, and return them to their proper place. This is a great service to schedule when you are changing your screens and storm windows.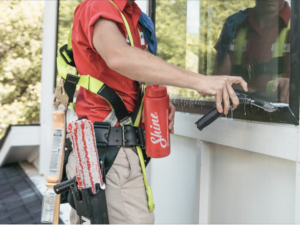 Interior Window Cleaning in Manhasset, Nassau County
The interior of your windows can also become dirty and need cleaning. Cleaning windows can be a big task, but with Shine, it doesn't have to be. Our technicians arrive with all the right tools to make your interior windows sparkle. We clean the edges and frames, and can safely reach all those high, hard-to-reach areas.
Chandeliers and Ceiling Fan Cleaning in Manhasset, Nassau County
While our technicians are in your home, why not have them clean your chandeliers and ceiling fans? We can also clean larger mirrors and other hard-to-reach lighting fixtures.
Why Choose Shine
Our technicians are well-trained, courteous, and friendly.  We can keep you updated with our arrival time with real-time text messaging (optional).  We use tools and water technology unavailable to other companies.  Our Shine guarantee means that we're dedicated to your complete, 100% satisfaction with our services.  We will treat your home with care while we professionally clean your windows inside and out. 
The Shine of Long Island Also Provides:
Request a Free Estimate Today
If you're looking for top-notch cleaning services in Manhassett, look no further than Shine. Request a free estimate today and experience the difference for yourself.