Are you looking to keep your Syosset home looking its best?  The shine of Long Island's professional outdoor cleaning services and professional window care will help you maintain your Oyster Bay / Syosset area home with ease.  Our technicians are detail-oriented and dedicated to providing the highest quality service while treating you and your Syosset home with care.  And your satisfaction is guaranteed.
About Our Premier Window Cleaning Service in Syosset, Oyster Bay
Living in Syosset can mean salt spray, moisture from fog, and road dust from traffic can wreak havoc on your windows.  Shine is here to clean all the dirt, dust, grime, and water spots off your exterior windows. Shine uses Shinebrite Crystal Water this water is put through a unique purifying process to ensure that your windows are dry and streak free.  This technology also allows us to clean up to 3-story homes and businesses from the ground, making our cleaning highly efficient.
Your screens can trap a lot of dust, dirt, and particles that are floating around in the air.  As Shine, we suggest also having your screens and tracks cleaned along with your windows. We will remove the screens from their tracks, brush, wash, and dry them, and then return them to their proper places. This is a great service to schedule when you are swapping out your screen and storm windows, Need your storm windows cleaned before you put them in.  We can do that too!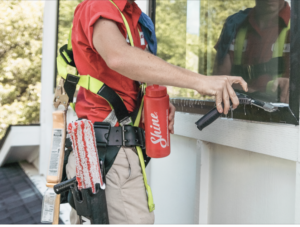 Though it may not always be as evident, the interior of your windows can get as dirty as the exterior.  Cleaning windows on your own can be a big task and without the right tools, you can feel like there is always a streak, or a mark, or some lint that lingers so you can never get totally clean.  That is where Shine comes in.  We arrive with booties and drop rungs, and all the right tools to make your interior window sparkle.  Unlike other companies, we even wipe the edge and the frame so your windows look amazing.  We can safely get all those high, hard-to-reach areas as well.
Chandeliers and Ceiling Fan Cleaning
While we are there, why not have Shine clean your ceiling fans and chandeliers?
We can also clean larger mirrors and other hard-to-reach lighting fixtures.
And That's Not All That Shine Can Do For Your Syosset Home
Now you know that here at  Shine of Long Island, we offer a wide range of cleaning services to maintain your home and keep it looking its best from Interior and Exterior Window Washing to Soft Roof Cleaning, Gutter Cleaning to Pressure and Soft Washing of your home's exterior and surrounding areas.    We also provide seasonal holiday lighting design,  installation, take down, and storage as well as permanent landscape lighting with color-changing options for all seasons. We even provide bistro and event lighting!  Shine has you covered.
Why Choose Shine over the Competition
Our technicians are well-trained, courteous, and friendly.  We can keep you up to date with our arrival time with real-time text messaging (optional).  We use tools and water technology unavailable to other companies.  Our Shine guarantee means that we're dedicated to your complete, 100% satisfaction with our services.  We will treat your home with care.  We are fully insured and safety is always a  top priority.
The Shine of Long Island Also Provides the Syosset area with: