Christmas & Holiday Light Installation in East Memphis, TN
As the holiday season approaches, Shine of East Memphis knows just how to get our bustling town into the holiday spirit! Our insured teams handle every step of Christmas light installation including the design, removal, and even storage of your holiday decor. Be the talk of the town this year with a dazzling light display from Shine!
Impress your neighbors, friends, and out-of-town guests with a perfectly decorated home. We offer everything from traditional lighting to modern and unique options to ensure that your holiday display fits your unique vision. Reserve your holiday lighting appointment early to ensure that your display is up with plenty of time to enjoy the season!
Local Professional Christmas Light Installers Near You

Shine of East Memphis loves helping our town and its surrounding area spread holiday cheer! We've been helping our community Shine for years! When you work with the team at Shine, you receive unparalleled customer service, high-quality products, and a 100% satisfaction guarantee.
Connect with us today to learn why families and business owners alike have been trusting us to create their holiday displays year after year!
More Than Just Holiday Lighting Installation
When it comes to creating a stand-out holiday lighting display, you can't just stop at the lights! Our team can safely hang greenery and wrap trees or shrubs to complete your holiday vision. With a wide variety of garland and wreaths, we have just the thing to make your home or business Shine this season!
Commercial Christmas Light Installation
One of our favorite parts of Christmas lighting installation is working with business owners local to East Memphis. We love spreading light among our bustling community! We're here to decorate your office or storefront, string lights among trees, or hang a wreath in that hard-to-reach spot.
Our commercial Christmas light installation comes with everything you need to help spread holiday cheer among your customers and employees. We handle the design, installation, maintenance, and even storage of all of your holiday decor. 
Contact us today at 901-355-2608 or request your estimate today.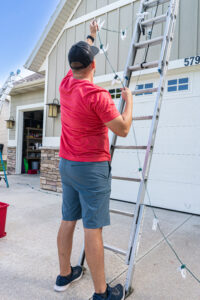 Custom Installation
Our insured professionals take the utmost care to install your Christmas lighting.
Avoid the Stress
Take one less stressor out of the holiday season. Have Shine handle all of your holiday light installation needs!
Prompt Removal and Storage
No need to clean out the garage or shed, Shine will remove and store all of your holiday decor until you're ready to put it back up next year!
Please note that our location only offers holiday lighting services and no other residential or commercial cleaning services.