Every homeowner knows that keeping rain gutters clean can be a challenging task. However,  small problems can become big problems fairly quickly when gutters aren't properly maintained. Let's take a closer look at the importance of gutter cleaning, doing it yourself, and why you should consider hiring a professional.
Importance of Gutter Cleaning
One of the biggest issues that can happen to your house if you fail to clean your gutters properly is water damage. Clogged gutters start to leak and overflow, causing loose caulking in the gutter joints. If you don't catch these leaks early, they can lead to rotten soffits and roof damage. It can also seep into the roofline and then down the walls, potentially damaging the interior of your house.
Another issue is the weight of the gutters when they fill with ice, snow, and debris. They are not made to hold a significant amount of extra weight so can begin to strain the roof. As a result, the gutters can rip off, cause damage to the roof, and are a danger for the people living in the home.
If water is not being properly guided away from your home, it can also damage the building's foundation. The water can collect, be absorbed, and then freeze, which causes a "heave" that leads to cracking.
As you can see, when your gutters are working properly, they play a significant role in protecting your home from unwanted damage. For this reason, it's important to keep them clean and to check their functionality periodically.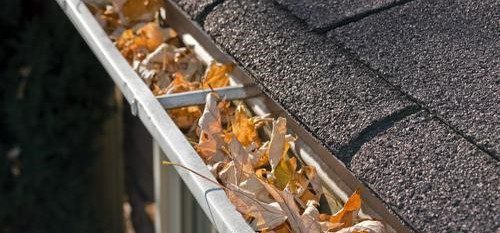 Can You Clean Gutters Yourself?
Gutter cleaning is an approach that some homeowners may choose to do themselves. It is possible to do it yourself; you'll just need a few tools that you can find at a home improvement store such as a ladder, hose, power washer, and gloves.
There are some advantages to doing it yourself. First, you'll be able to perform the gutter cleaning whenever you would like. You wouldn't have to schedule time off to be at home while the company cleans the gutters. Secondly, you would eliminate the need to hire a professional.
With these pros in mind, why do you think that many hire a professional to come clean their gutters?
Why Hire a Professional?
As you can imagine, there are several benefits to having a professional clean your gutters. First, professionals provide a quick and efficient cleaning. They can get the job done in less time, saving an afternoon of hard work.
A professional also takes on the risk involved with gutter cleaning. While it might not seem like a difficult task, it involves a lot of ladder work and the use of a pressure washer. If you don't have a quality ladder or washer, you will have to pay to buy or rent them. On top of that, if you don't have experience working on a ladder with the equipment, you're leaving yourself vulnerable to the risk of an injury. Unfortunately, ladder accidents are common and can happen to anyone. Furthermore, the high pressure of the washer can also cause injuries on it's own.
Another benefit of having a professional clean your gutters is that they will get the job done correctly. They'll ensure that the gutters are draining well and away from your house and they'll also inspect to see if anything there is anything you should fix.
Shine's Professional and Affordable Gutter Cleaning
Still not convinced that hiring a professional is the way to go? Try getting a free estimate to help you decide. At Shine, we'll inspect your property and provide you with a quote that is competitive and honest.
We'll send our team to clean out and blast away all the tough debris that have collected over time. If needed, we'll also flush out your gutters to ensure they are draining correctly. When we finish, you'll have a home that is in good shape and ready to handle any weather that comes its way.
If you have not cleaned your gutters lately, now is a very wise time to do it as the winter is coming in full force. You wouldn't want any damage to occur in the middle of the rainy season. Contact us today, and we'll ensure that your gutters are in good shape.