Christmas & Holiday Light Installation in Littleton, CO
Enjoy the holidays and create a winter wonderland at home (or work) with the help of the professionals at Shine!
Just like the charming displays in Downtown Littleton and the memories of the annual Littleton Christmas Parade, your home can shine during the holidays—with a little help from the team at Shine.
Not only does our team host national training for installers, but we come with a safety guarantee, design plans, and installation. Better yet, the team will return to disassemble, pack it up and store it for next year. Prepare the hot chocolate—we just cut your stress level in half!
Deciding on a theme can be expensive and overwhelming. However, the Shine team has both traditional, modern and unique options to fit any vision, such as:
Candy cane, cool white or warm white with red lights
Multi color lights
Red & green lights
Timeless warm white bulbs
You can even alternate your trees or shrubs with red and green lights! Plus, we use safety clips, stake lighting for walkways, and trained professionals to get that massive wreath just right in the center of your windows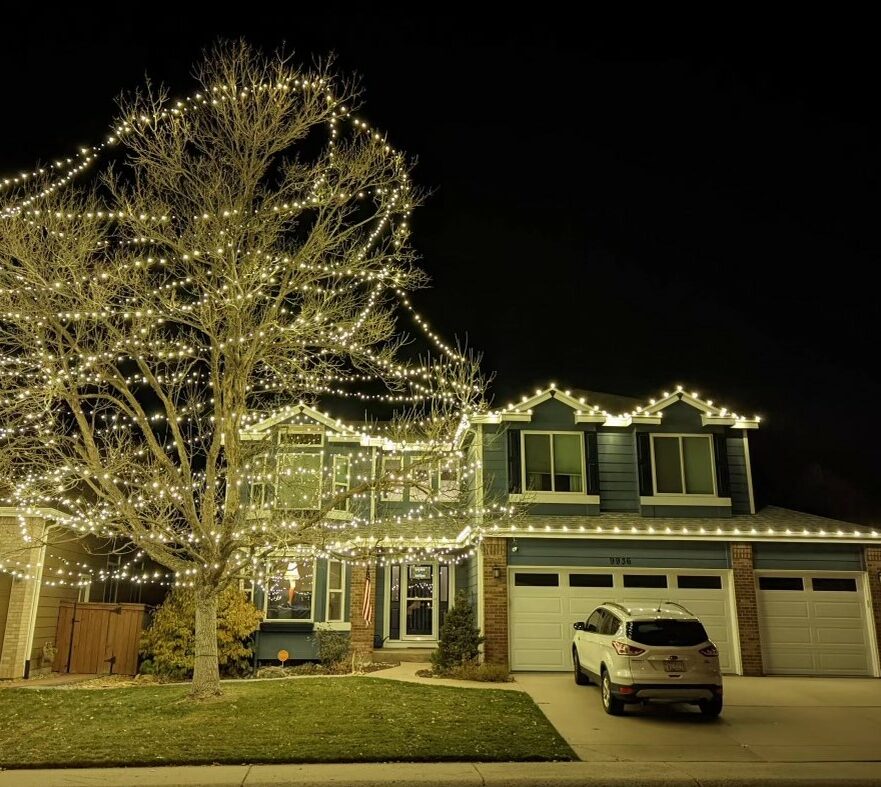 Local Professional Christmas Light Installers Near You
Littleton, CO will shine—and glow, sparkle and light up—this Christmas. Just like Santa's elves, our crew trains for the holiday light season, and our experience shows.
With 40+ national franchises and dedicated locally-owned locations, Shine blends both the insurance and business savvy of a national business with the care and commitment of a locally owned small business. Our location in Littleton is no exception, with experienced and insured crews that are just a little crazy about Christmas.
Don't end up on your family's naughty list this year—appointments and installations are filling up fast! Our elves need you to book now!
More Than Just Holiday Lighting Installation
It's not Christmas without a little light, but our team doesn't stop there! We focus on the possibilities to decorate your entire home, including wreaths and garland, trees, shrubs and more.
No job is too small or too big; let Santa know you're serious about the season with Shine!
Commercial Christmas Light Installation
Don't be the Scrooge of the business world; delight your customers and employees by bringing the Christmas spirit to the office!
Our experts will consult with you to create the best representation of your business and brand. With years of experience and tons of options, there's nothing too big or small that we can't accomplish.
Contact us at (720) 725-6497 or request your estimate today!
Contact Us
7338 S. Alton Way, Unit 16F
Centennial, CO 80112
(720) 725-6497
Special Event Lighting Installation
Christmas isn't the only time of the year to Shine bright! Light up any holiday with the professionals of Shine. We're happy to work with businesses, wedding venues, holiday celebrations, birthday parties, and more.
We work with many different cities and municipalities to help light and decorate buildings and trees for special occasions, too.
Halloween Lighting
Outdoor Patio & Bistro Lighting
Valentine's Day Lighting
St. Patrick's Day Lighting
Work with Littleton's Best Christmas Light Installers. Book Now!