6 Landscape Lighting Ideas for Maximum Curb Appeal 
Say goodbye to your dark, dull home and watch it come to life with professionally fitted landscape lighting! Shine landscape lighting services can illuminate your patio, walkway, home façade, landscape features, or even a backyard party with the best outdoor lighting available. 
It's time to makeover the exterior and landscaping of your home or home with six landscape lighting ideas for maximum curb appeal. 
1. Landscape Lighting for Security 
A well-lit home not only looks great, but will provide security and safety. You'll never have to worry about what's hiding in the dark! A well-lit yard and illuminated doorways act as deterrents to intruders looking for an easy target.
Lighting can be used to increase visibility throughout your yard, which is a great deterrent since intruders do not want to be seen. Lights need to be properly positioned to illuminate darker areas of your yard and to avoid creating areas of shadow where intruders can hide.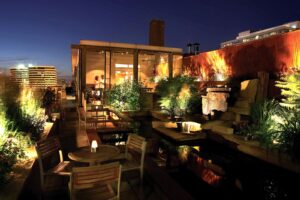 Landscape Lighting for Security
2. Uplights to Highlight Architectural Features
One of the most common ways to use landscape lighting is to install uplights to illuminate your home's best features. Uplights create the right amount of light and shadow to accentuate the pillars, rockwork, dormers, or other architectural features you want to highlight. This lighting style will add depth and texture to your property, allowing your home to Shine bright no matter the time of day!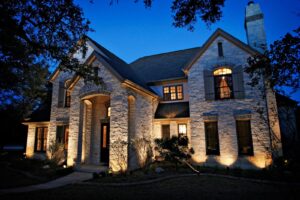 Uplighting
3. Silhouette Landscaping Features
Positioning lights to silhouette specific landscaping features is another technique that you can use to enhance your home's curb appeal. By placing lights behind or below landscape features, this technique creates a striking contrast between the object and the background, highlighting the feature's shape and creating a dramatic effect.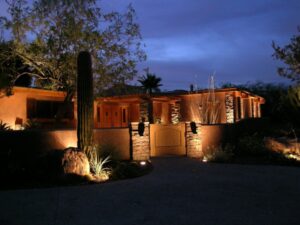 Silhouette Landscaping Features
4. Downlights to Create a Moonlight Effect
Illuminating your yard with downlights installed high up in trees or on structures can create a beautiful cascade of light that simulates natural moonlight. This gentle light can be used to guide guests to your doorway or to illuminate your yard.
To create a true moonlit effect, it's essential to know how to properly position your lights. Our landscape lighting professionals know exactly what it takes to achieve this beautiful illumination technique!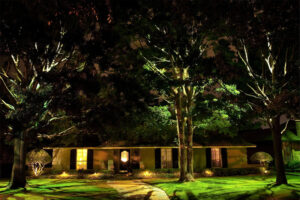 Downlights to Create Moonlight Effect
5. Incorporate Lighting Into Overall Landscape Design
It's important to incorporate your lighting into your overall landscape design to create a more cohesive look, ensure that your functional lighting needs are being met, and make sure your outdoor lighting is adding to your home's overall aesthetic and curb appeal. 
The landscape lighting professionals at Shine will consult with you and design a custom lighting package unique to your home! We'll even help you maintain your landscape lighting package to ensure your home is always looking its best.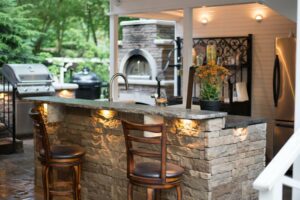 Incorporate Lighting Into Overall Landscape Design 
6. Cross Light Architectural or Landscaping Features
Where there is light, there is shadow, which may become an issue when trying to highlight particular features of your home or yard. Cross light your architectural or landscaping features to allow for a softer, more subtle look with fewer shadows.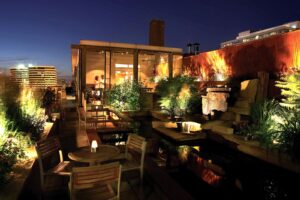 Cross Lighting
Let The Lighting Professionals of Shine Help You With Your Next Project 
Overall, if you're looking to add some visual interest and depth to your property, landscape lighting is an excellent option to consider. With its versatility, ease of use, and ability to accentuate your home's best features, it's a great way to create a warm and welcoming atmosphere that you and your guests will love!
Shine landscape lighting will elevate your home to the next level. With our low voltage and powerful lighting options, your home will have well-lit steps and pathways. We can even lay wires beneath sidewalks, grass, or mulch eliminating tripping hazards and unneeded clutter. 
Don't let your home or business go unnoticed. Contact us today to schedule an appointment to start your next landscape lighting project.