Christmas & Holiday Lighting Installation in Austin Four Points, TX
Austin Four Points is on the move. We take pride in our growing city, and how we celebrate the Christmas season is no exception. Get a jump on your Christmas decorating with professional holiday lighting installation services from Shine of Austin The Four Points. This year, relax and enjoy your holiday decorations and leave the work to Shine!
Professional holiday lighting installation makes all the difference in the look and feel of your home. In what can be a stressful time of year, leaving Christmas light installation to the professionals takes the pressure off doing it yourself and frees up your time. It's sure nice to come home to a house that is decorated.
Shine of Austin The Four Points team offers professional holiday lighting design, installation, removal, and storage services. We'll bring your design to life with a variety of Christmas decorations that include:
Choice of color or white bulbs
Candy cane look, cool white or warm white with red
Multi-color lights
Red & green lights
Icicle lights
Timeless warm white bulbs
Alternate your trees or shrubs with red or green
All holiday lights are installed on the edges of your home with special clips that prevent damage. We also have stake lighting for walkways, wreaths, wreath hanging services, and garland for pillars, porches, and railings.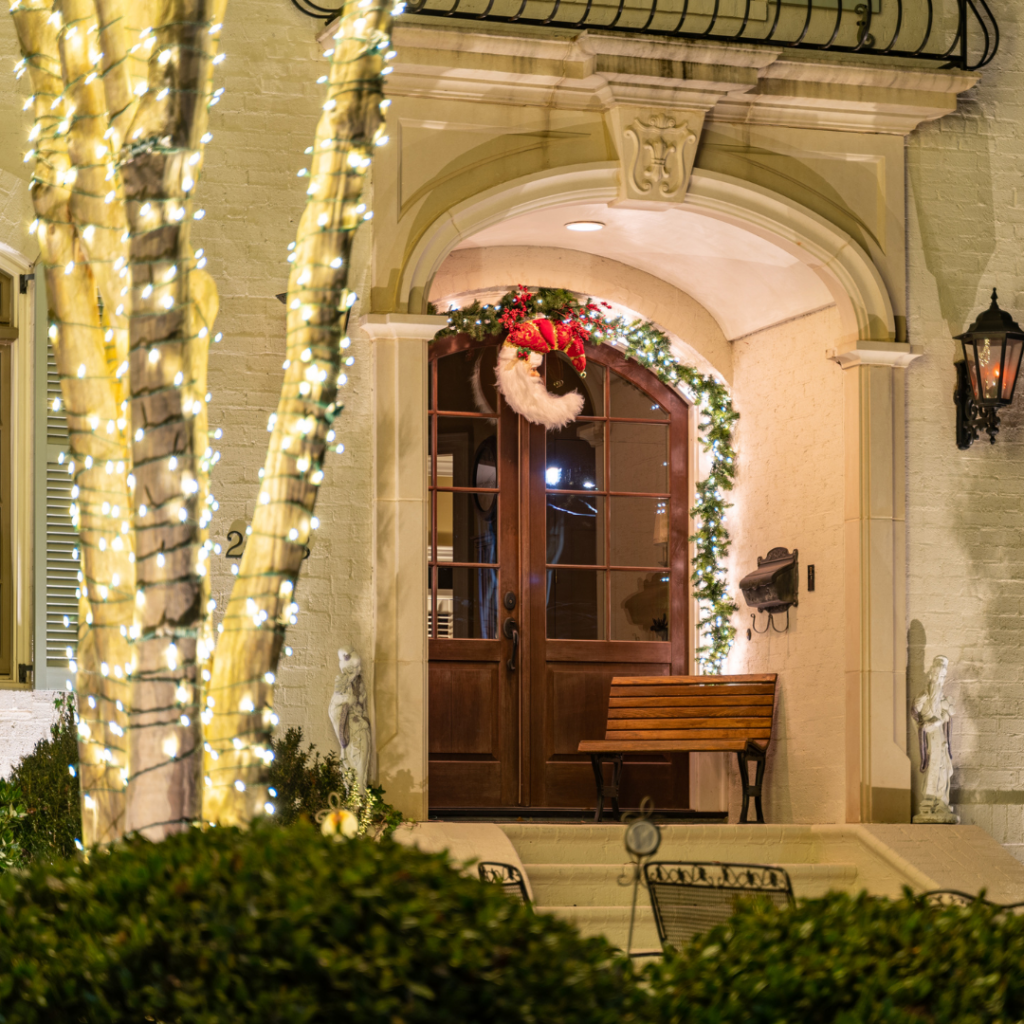 Local Professional Christmas Light Installers Near You
Shine of The Austin Four Points is locally owned and operated. Shine has been installing Christmas lights and décor for multiple years for hundreds of customers. Our teams are professionally trained annually to stay on top of lighting design trends and equipment. Shine of Austin Four Points is fully insured and uses premium lighting and décor to ensure the safety of your home or business.
Christmas lighting installation appointments are filling up fast. Book yours now!
More Than Holiday Lighting Installation
We don't stop at Christmas light installation. In addition to holiday lighting, we provide wreaths and garland to complete your holiday decorations. Our design team will work with you to bring your vision to life, including decorating trees, shrubs, and the exterior of your home.
When you choose Shine of Austin The Four Points, you can count on high-quality products, a nationally known company with local owners who take pride in brightening our community for the holiday season or any special occasion. 
Commercial Christmas Light Installation
Get back to business and leave the Christmas light and holiday decoration installation to us! Brighten the day of your employees, customers, and visitors without adding an extra item to your to-do list. Our commercial Christmas light installation is perfect for office buildings, retail establishments, restaurants, healthcare facilities, warehouses, industrial buildings, hotels, and more.
Best of all, we remove the decorations after the holidays and store them for you until next year. 
Contact us today 512-915-0600 or request your estimate today!
Special Event Lighting Installation
Christmas time may be the star when it comes to lighting displays, but there are many different applications for professional lighting throughout the year. Whatever the occasion or venue, leave the ladder climbing and hanging to Shine. We'll liven up your space with professional lighting for weddings, porches and decks, pool and recreational areas, outdoor spaces, and more!
We also work with cities and municipalities to help light and decorate buildings and trees for special occasions, including
Halloween lighting
Valentine's Day Lighting
St. Patrick's Day Lighting
Outdoor patio and bistro lighting
Small outdoor venue lighting
Work with Austin Four Point's Best Christmas Light Installers. Book Now