Professional Window Cleaning & Power Washing In Raleigh, NC.
Providing Window Cleaning and Home Maintenance Services in Apex, Cary, Durham, Morrisville, and Raleigh, NC
Our team knows that every project we have the ability to work on will result in another happy, satisfied customer. All of our commercial and residential cleaning projects are backed with a 100% satisfaction guarantee and we're always willing to do whatever it takes to make things right! From professional window cleaning and power washing to landscape lighting, our team knows what it takes to make your home Shine!
Our Story. Meet Connor Groce.
Connor started Shine of Raleigh, NC to provide world-class customer service. From spring cleaning to hanging holiday lights, he loves helping customers keep their homes beautiful all year long. Connor is proud that his dedicated team builds relationships with customers by demonstrating Shine's core values of excellence, serving, fun, safety, and positivity.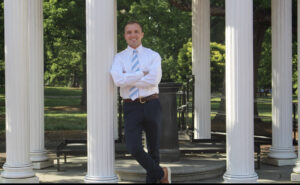 "Our gratitude is endless for the community that has extended so much support to our business and our team since we began this journey."
Specialized Commercial and Residential Cleaning Services 
We provide the following services for commercial and residential customers in Shine of Raleigh, NC