Christmas & Holiday Lighting Installation in Dallas – Highland Park, TX
During the mild but windy Dallas winters, brighten up the neighborhood with Shine of Dallas's Christmas lighting installation. It's time to dazzle in Dallas—schedule your Christmas light installation appointment with Shine of Dallas. 
Be that house in your neighborhood with the curb appeal; decorate your home or business for Christmas with Shine of Dallas. You'll love coming home to a beautifully decorated house during the holiday season, and better yet, you won't have to lift a finger! 
Shine of Dallas – Highland Park offers holiday lighting design, planning, installation, removal, and storage services for the Big D and surrounding areas. We'll send a professional Christmas light installer to your home or business to help you bring your vision to life. Then, once the holiday season is over, we come back to take it all down and store it for next season!
We offer a variety of holiday lighting bulb choices, such as:
Candy cane, cool white or warm white with red lights
Multi color lights
Red & green lights
Icicle lights
Timeless warm white bulbs
To keep you and your home's visitors safe, we'll also provide stake lighting to line your walkways. Additionally, we'll decorate your trees and shrubs, wrap pillars and columns, and hang wreaths on your home—which is all included in one package!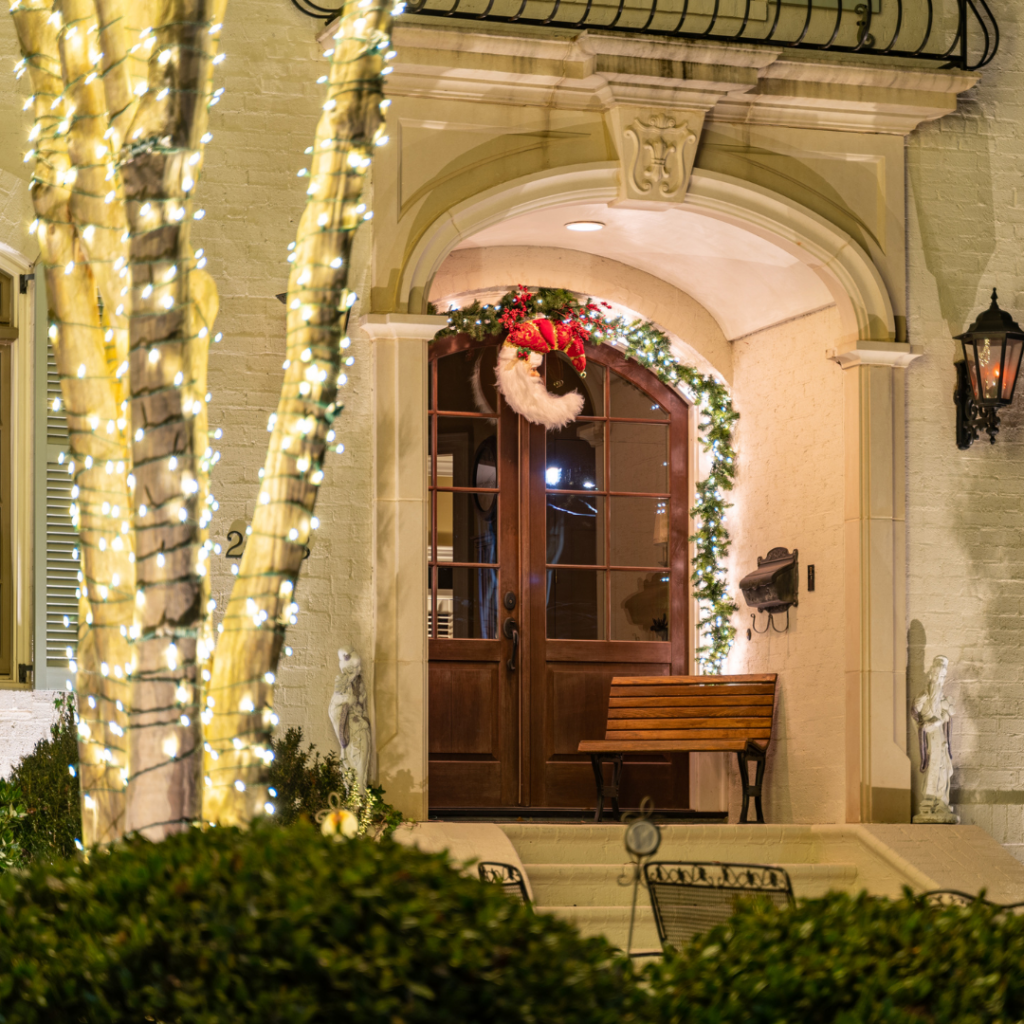 Local Professional Christmas Light Installers Near You
As true locals to the Dallas metro area, Shine of Dallas has installed lights and decor for several years. Each year, our team attends our national holiday lighting training with 40+ other franchise locations. This is where we learn and perfect our services to bring the best possible Christmas lighting installation service to our fellow Dallas residents. 
Our customers can expect professional service and high-quality products from Shine. Our national backing grants us the ability to serve everywhere, while our local owners enjoy working with our Dallas customers year-after-year. 
Christmas lighting installation appointments fill up fast. Book yours now!
More Than Just Holiday Lighting Installation
Shine of Dallas is so much more than just lighting installation—we work with our customers to design and plan to fit their homes or businesses, and turn their vision into a reality.
We can install lights, wreaths, and garland on homes, buildings, trees, shrubs, pillars, porches, and so much more.
Commercial Christmas Light Installation
We decorate more than just homes— your business can be the center of all the Christmas "Shine" in Dallas! 
Give your customers and employees some Christmas magic every day with the complete design and installation from Shine of Dallas. 
Contact us today 214-991-0183 or request your estimate today!
Contact Us
6170 Sherry Lane, Suite 120
Dallas, TX 75225
Special Event Lighting Installation
Who says beautiful light displays have to be just during Christmas? We love installing our high-quality lighting products for other events any time of the year. We provide professional lighting for business events, wedding venues, and more.
We work with many different cities and municipalities to help light and decorate buildings and trees for special occasions too.
Halloween Lighting

Outdoor Patio & Bistro Lighting

Valentine's Day Lighting

St. Patrick's Day Lighting
Work with Dallas – Highland Park's Best Christmas Light Installers. Book Now