Christmas & Holiday Lighting Installation in roswell, ga
Shine of Roswell specializes in creating brilliant holiday lighting displays for your home or business. Our mission is to promote holiday cheer throughout Roswell while contributing to the improvement of our beautiful town. This holiday season, make your holiday light display the talk of the town with the assistance of our trained professionals.  
When you work with Shine of Roswell to design your holiday lighting display, you can rely on us to deliver the highest quality products paired with first-rate customer service. Every Christmas season, our staff is lucky to serve a long list of satisfied customers. We handle every aspect of designing, installing, maintaining, removing, and even storing your holiday decorations. 
We are confident that we can deliver all of your holiday lighting dreams with our extensive selection of lighting and decor options. Choose between conventional white lights or light it up with multiple colors. We wrap pillars, trees, shrubs, and more! We'll even decorate your house with garland on the fence or a wreath in that hard-to-reach spot on your home. This holiday season, be the envy of your neighbors with a holiday lighting display from Shine of Roswell. 
Local Professional Christmas Light Installers Near You
Since all of our team members are local, we're fully aware of the significance of the Christmas season to Roswell residents. To ensure that we can install holiday lighting on any property safely, each member of our team goes through extensive training. Thanks to our annual light training, we stay up the date on the latest holiday lighting trends and we're excited to put them into practice to produce stunning displays. 
Local customers in Roswell receive professional service, high-quality products all with national backing, and local owners who enjoy working with our customers year after year.
Our Christmas lighting installation appointments are filling up fast. Book yours now!
More Than Just Holiday Lighting Installation
In Roswell, we believe that holiday lighting displays aren't complete with just string lights. In order to distinguish your home or business from the rest, Shine offers a wide range of wreaths, garlands, bows, and more. We will work with you to make sure your vision comes to life! 
Commercial Christmas Light Installation
We're happy to provide Christmas light installation for a wide range of local businesses in and around Roswell. We appreciate the opportunity to work alongside business owners to make our community Shine all season long! 
With our staff by your side, spreading holiday cheer around the community has never been easier for your company. Our teams handle everything from design, installation, maintenance, removal, and even storage of your holiday lights. Say goodbye to that packed box of holiday decor in your back office. We'll keep all of your lights safe until you're ready for us to reinstall them next holiday season!
Work with Roswell's best Christmas light installers. Request your estimate today
Custom Installation
Work with our design team to create your perfect holiday displays. We'll take care of everything, from the decorations to safe and professional installation using premium products.
Avoid the Stress
Take away the pressure of decorating your home or business this Christmas. Leave the work to us; we'll make your home or business Shine!
Prompt Removal and Storage
When the holidays are over or when you are ready, we take down your holiday décor and make life after Christmas hassle-free. We'll also carefully store your decorations for next year.
Want to work with the best Christmas lighting installers in Roswell, GA? Give us a call today!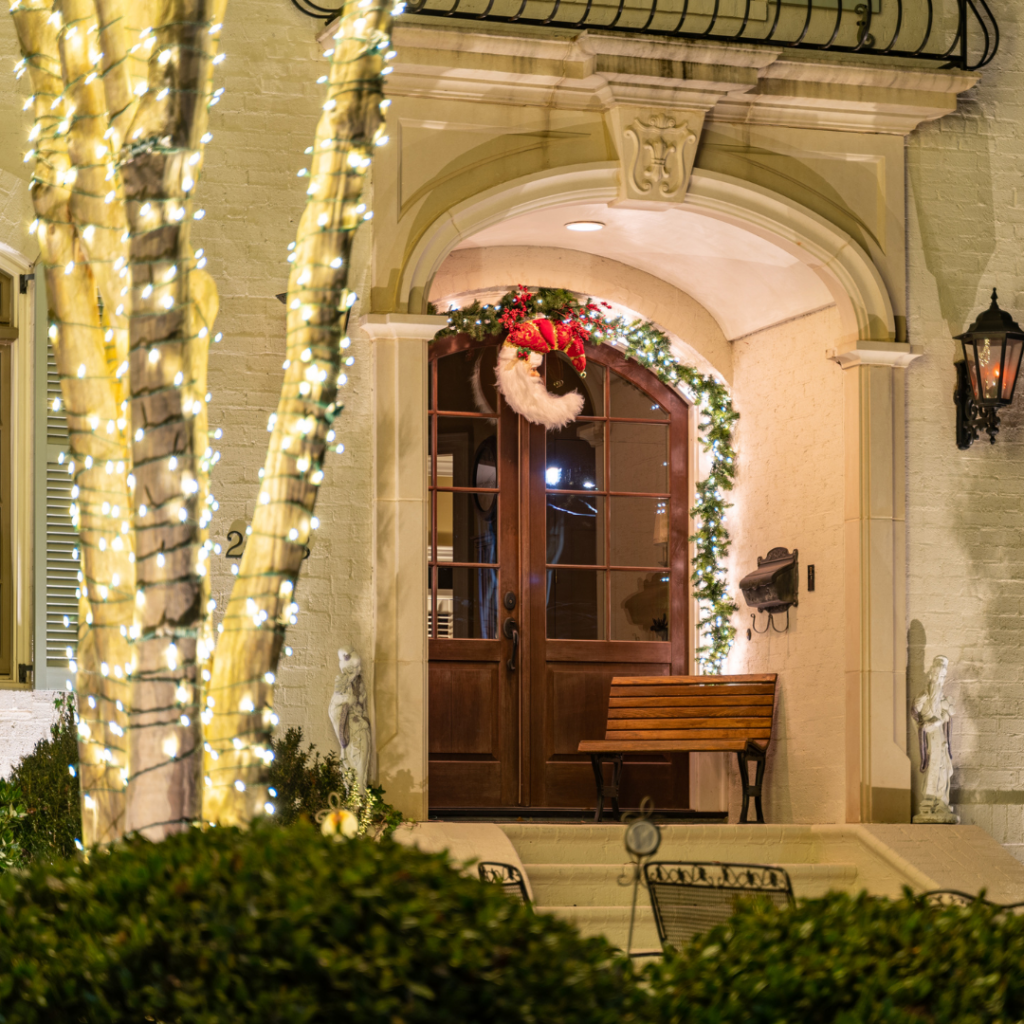 Special Event Lighting Installation
Even while installing Christmas lights is a significant portion of our company, our lighting products are perfect for special occasions throughout the year. We also offer professional lighting for various occasions, whether they involve wedding venues, commercial buildings, or becoming that memorable seasonal residence.
We work with many different cities and municipalities to help light and decorate buildings and trees for special occasions too.
Halloween Lighting

Outdoor Patio & Bistro Lighting

Valentine's Day Lighting

St. Patrick's Day Lighting
Work with Roswell's Best Christmas Light Installers. Book Now